By Maura Sullivan Hill, FSO staff writer
CHICAGO, IL–Maia and Alex Shibutani haven't been home to Michigan in almost a month.
They're spending the weekends performing on the 22-city U.S. Stars on Ice (SOI) tour, and during the week they're traveling from coast to coast for off-ice projects, attending Oscar parties in LA, media appearances in New York City, and meetings at YouTube headquarters in San Francisco. It's safe to say they haven't had much time to relax since claiming an individual and team bronze medal at the 2018 Olympics in South Korea in February, but the ice dancers are savoring every moment.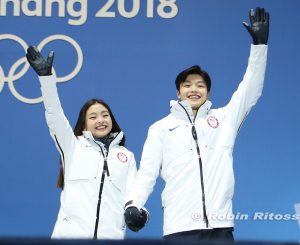 "Regardless of your level of experience, at the Olympic Games, it's one of those 'everything comes down to this' type of moments, and I think we would have been naïve to not have the perspective of what an Olympic medal means. We're very accomplished and experienced when it comes to our international track record, and it has all been built towards getting those Olympic medals. We knew what it meant to us, and that's why we put so much of our time and so much effort into our preparation," Alex said while getting ready for the Chicago SOI show at Allstate Arena. "It's what been pushing us for the past four years, especially, following our first Olympic experience in Sochi. There hasn't been a lot of time to reflect, given our schedule, but every minute, we're grateful that we were able to experience what we did at the Games and that we skated our very best."
The Shibutanis announced in April that they will take the 2018-2019 season off from competition, but that doesn't mean they have any plans to slow down. After Stars on Ice wraps up at the end of May, they are scheduled to perform in shows in June in Japan as well as star in the July 4th ice show in Sun Valley, Idaho. 
In April, the duo signed with Hollywood talent agency UTA, and though they said it was too early to talk specifically about their off-ice plans for the coming year, they said they are excited about what is in store.
With a following of more than 150,000 fans on their YouTube channel and nearly 200,000 on their joint Instagram account, it is a safe bet that some of those new projects will showcase their video and social media skills. They will be making an appearance for the first time as featured creators, June 20-23, at YouTube's VidCon, an annual conference for the online video community.
Until then, they'll be on the road with Stars on Ice. Both Maia and Alex said the crowd and fan response on this year's tour has been gratifying.
"It's been really special that we've had the opportunity to tour with Stars on Ice. The amount of enthusiasm that we, and the entire cast, have received, there is just so much excitement. I think that the Winter Olympics this year really resonated, so to have that celebration continue, even though we are over two months removed, is amazing," Maia said.
"There are so many people that we've met at all the various shows, who traveled from much further to make it to the shows, which is a great feeling, because we are always talking about how, collectively as a sport, we wish that there were more people that were actively involved in following the sport during non-Olympic years," Alex added. "I think that there was a lot of good momentum built up during the Games. It's not just limited to the tour. Whenever we're out and about, even in major cities, the recognition that we get and the support has been awesome."
The duo were also finalists for the James E. Sullivan Award, which the Amateur Athletic Union presents annually to the nation's best amateur athlete, in recognition of their impact both on and off the ice.
"It was a huge honor for us to be finalists for the Sullivan Award, which obviously has so much great history," Maia said. "The qualities that the Sullivan Award celebrates, it goes beyond what we all do in the field of sports."
Both Shibutanis spoke about using the platform that the Olympic attention has given them to give back to causes they care about. They were at the Figure Skating in Harlem annual gala in May, and have supported Right to Play, a nonprofit organization that uses play and sports to empower youth, for four years.
"Sports have given us so much in our development as people and so being able to celebrate the value of sports and what they bring to the next generation is something that Maia and I have already begun to focus on, with our work with the State Department and our Sports Envoy visit to Seoul last year and then the work that we did with the Thank You Pyeongchang program leading up to the Games," Alex said.
"Also this year, Maia and I are looking forward to commit some time that we would have been spending training to some causes that we really support, to be able to give back, and that's always going to be an important part of our lives."
Keep up with the ShibSibs' adventures during their year off from competition on their official social media channels: @ShibSibs on Instagram and Twitter, and their YouTube channel.