By Francesca S.
Header photo by Robin Ritoss
The 2018-19 Grand Prix Series continues this weekend, October 26-28, with Skate Canada International in Laval, Quebec, Canada.
While the competition will feature well-known names such as 2018 Olympic silver medalists Evgenia Medvedeva, of Russia, and Shoma Uno, of Japan, the event will also be the Grand Prix debut for skaters like reigning Junior World bronze medalist Mako Yamashita, of Japan and reigning Junior World Champion ice dance team Anastasia Skoptsova and Kirill Aleshin, of Russia.
But for Canada's pair team of Camille Ruest and Andrew Wolfe, Skate Canada International will mark a return to the senior Grand Prix, since the pair's debut at Rostelecom Cup in 2016.
During a pre-Skate Canada media event Oct.9, Figure Skaters Online briefly caught up  with Ruest and Wolfe, who train in Montreal with coaches Richard Gauthier, Bruno Marcotte and Sylvie Fullum.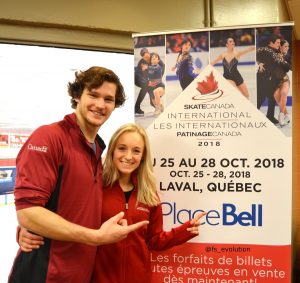 Figure Skaters Online (FSO): How has the start of the season been for you so far?
Andrew Wolfe: We had one ISU Challenger event so far (U.S. International Classic – 5th place). It was a good learning experience, a base point to start from. We did a solid short there and a rougher free that we are not very proud of, but we are looking forward to stepping up the rest of our season.
FSO: Skate Canada will be your next competition. What are your goals there?
Camille Ruest: We want to improve on our international best score(64.40 short program; 109.71 free skate score and 169.11 total score). It is only the second time we competed internationally in Canada after Autumn Classic International in 2016. We are excited to skate in front of our family and friends and our home crowd.
FSO: For those who don't know, where in Canada are you guys from?
Ruest: I'm from here! (Quebec)
Wolfe: I am from Calgary. I think my parents will come (to Skate Canada), but I have a family here(in Montreal) with everybody that has taken me in as a resident Quebecer. Her (Camille's) family too groups in as mine, so lots of people to cheer us on.
FSO: So that means we can expect to see some cool banners in the arena for you guys?

Wolfe: That's a good idea!
Ruest: I have friends that made some.
Wolfe: Maybe we'll spot some in the rafters.
FSO: In past events, there have been fans in the crowd holding up big faces of the team Canada members.
Ruest: That was us!
Wolfe: Yes, we made them for Meagan(Duhamel) and Eric(Radford) and Kirsten (Moore-Towers) and Mike(Marinaro) at Worlds in 2016. It was at the beginning of our career and we went to Worlds (in Boston) just to watch. I thought we should do something fun, so we blew up their faces on sticks and waved them in the crowd. People enjoyed them.
FSO: So maybe this time someone should make them for you?
Wolfe: You are totally right. Somebody should. Maybe I'll make the faces and give them to somebody.
FSO: What's next after Skate Canada?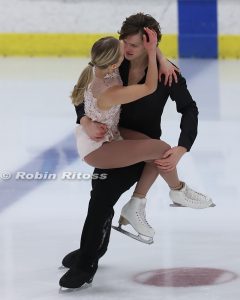 Ruest: After Skate Canada, we are going to France for our second Grand Prix. Then its Nationals (in January) in Saint John, New Brunswick, on the east coast.
Wolfe: After that, depending on the placement, the top three teams will go to Four Continents and top two to Worlds. Our goal is to get that second spot for Worlds.
FSO: While I know we just started this season, how do you feel about Worlds in Montreal in 2020?
Ruest: It is one of our goals. It would be amazing to compete here (in Montreal).
Wolfe: Like we said, this Skate Canada is only the second time we'll be competing an international at home, so we'll get a lot of support, and on top of that, Worlds will be exponentially bigger. It's great to compete here in Quebec as there's lots of support for figure skating, the fans are great, the media does a great job to bring it to the forefront and show to the fans what we do.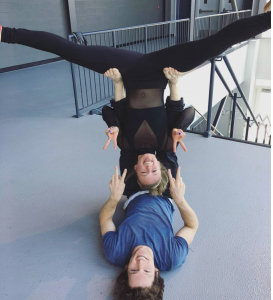 FSO: Changing topics–you both are known for your acroyoga Instagram videos. Can you tell us about that?
Wolfe: People often tell us at competitions how much they love the acroyoga we are doing.
Ruest: We usually warm-up (off-ice) with that.
FSO: You should do tutorials!
Wolfe: That's a good idea! We'll give you credit for that one!
Ruest: I got asked for that actually.
Wolfe: It's good to have something else as a team to work on, to have people see the way we interact on other things as well, off the ice. It allows us to build a better understanding with out fans of who we are as people.
FSO: How did you get into it?
Ruest: It was a bit random. I used to do what we called "airplanes" with my friends when I was younger. I started to do them with him(Drew) and we then switched positions and looked on Instagram for tutorials.
Wolfe: Obviously, we had a good understanding of balance. So the first time we tried, we were pretty successful. We just taught ourselves by watching other people on social media. It grew into something we really enjoy doing.  We do it every day before skating.
FSO: Lastly (back to skating), Team Canada is known for some great team spirit, something that showed especially at the Olympics. How does it feel to be part of this team?
Wolfe: We have great team spirit and we are proud of each and every individual on our team. Everybody brings something unique. For a long time, everyone has been so supportive of one another regardless of rivalries at competition. Everybody wants each other to be as successful as possible.
Ruest: With the new(Olympic) cycle, it is a whole new team with new faces. It's amazing to be part of it.
Skate Canada is October 26-28 in Laval, Quebec, Canada. Figure Skaters Online's writer and photographer, Francesca S. will be in Laval providing live coverage! Make sure you follow Figure Skaters Online on Facebook and Twitter and check www.figureskatersonline.com for updates.