Story and Photos by Claire Cloutier, Team FSO contributing writer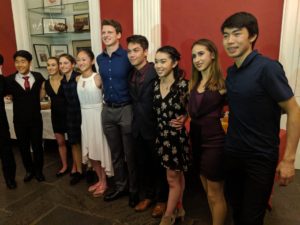 CAMBRIDGE, MA–The 49th annual An Evening with Champions show took at Harvard University Sept 20-21. This show, organized by Harvard students benefits cancer care and research through The Jimmy Fund. It's great to see skaters and audiences come out to support such a worthy cause!
The cast of An Evening with Champions (EWC) changes annually, so the show is a different experience from year to year. Some years, there are more professional skaters in the cast. This year, the emphasis was on eligible skaters, as the cast included many skaters competing this fall on the Junior Grand Prix, Grand Prix, or Challenger Series circuits. This year's cast also included more pairs and dance couples than usual, which was great to see!
Sharita Taylor, bronze medalist at the 2017 Special Olympics World Winter Games, opened the show with an inspirational performance to Carrie Underwood's "The Champion." It was the second consecutive year that Taylor has appeared in the show, and the audience welcomed her warmly. At the reception after the show, Taylor said that she has a fraternal twin sister who also skates. The sisters live in Ohio.
Next to skate was 17-year-old Nick Hsieh, who competed in juniors last season (and was the 2018 U.S. men's Novice bronze medalist). Hsieh skated to a dramatic ballad, landing a double Axel, triple toe (hand down), and double toe. He showed nice flow and some creative lunge transitional moves.
Diana Zhu skated an intricately choreographed program to Madonna's "Frozen." A two-time competitor at U.S. Nationals, 18-year-old Zhu is now a freshman at Harvard. Wearing an edgy teal-and-black dress, she hit a double Axel and a nice long spiral, as well as showing good, sharp footwork.
U.S. senior pair Allison Timlen and Justin Highgate-Brutman skated their competitive short program set to a pop song. They completed a double twist (2-foot landing), side-by-side double toe loops, a nice Axel lasso lift with good ice coverage, and a throw double Salchow. They showed nice power and skating skills.
Afterward, Highgate-Brutman said that their short program, choreographed by Massimo Scali, is still new and "a work in progress." Highgate-Brutman is originally from the Detroit area, while Timlen is from Boston; they train in Acton, Mass., with coaches Bobby Martin and Carrie Wall. The team is hoping for better luck this year at U.S. Nationals than they had last season. "Last year, Allison got sick before Nationals, and then I got sick during Nationals," Highgate-Brutman related ruefully.
Joonsoo Kim, the 2019 U.S. Junior men's bronze medalist, put out a nice program [this season's Senior short program] to Calum Scott's "You Are the Reason." He landed a double Axel and triple Lutz, showing nice musicality and awareness of rhythm.
Team Excel Junior, a synchronized skating team from the Skating Club of Boston, put out an energetic program to Roxette's "Listen to Your Heart." Notable elements included a nice spiral sequence, some twizzles, a step sequence with rockers and counters, and some cool pass-through moves.
Selena Zhao, former Canadian junior champion, skated a very nice program to "Starry Starry Night" by Govardo (the same music that Piper Gilles and Paul Poirier used for their free dance last year). Zhao displayed good edges, nice line, and sensitivity to the music in this number. She is a senior at Harvard University and recently studied abroad in Northern Ireland and at Oxford University.
Next up were U.S. junior ice dance team Katarina Wolfkostin and Jeffrey Chen. This team competed in two Junior Grand Prix events this season, placing an impressive 4th and 5th in only their first season together. Wolfkostin/Chen performed their free dance, set to "How Will I Know" and "Fire on Fire." It was great to see this program live! Wolfkostin/Chen showed so much expression, fluidity, and extension. Despite their youth, they finished off all their moves with great polish and confidence. Their technical elements were strong, with good stationary and curve lifts and a creative, fast dance spin. They also completed a triple-twizzle sequence (slight balance check on the first set). Altogether, their free dance was a real treat to watch.
The duo said they had mixed feelings about their Junior Grand Prix debut season. They were pleased to have the opportunity to compete twice (France and Russia). But, "there were some mistakes," Chen said with regret. The young team is setting a high standard for themselves, despite the newness of their partnership. They will now focus on continuing to grow and develop their programs before U.S. Nationals.
The Haydenettes, reigning U.S. champions in synchronized skating, closed out the first half  of the show with a fine performance to "It's All Coming Back to Me Now." Wearing burgundy dresses and with their hair in ponytails, the team skated with truly impressive power and speed. As host Paul Wylie noted, you can literally feel the breeze on your face as this team skates past–that's how fast and athletic they are! The program seemed to go by quickly, featuring interesting circle and cross patterns. Always a pleasure to see this team live!!
Camden Pulkinen, the 2018 U.S. junior men's champion, opened the second half of the show. His  gorgeous program to "Fix You" by Coldplay showed off his musicality and beautiful line. Every movement seemed etched with care and precision. Pulkinen landed two double Axels and a triple toe/double toe combination.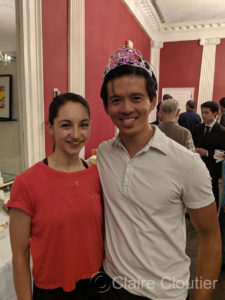 Olivia Serafini and Mervin Tran, now in their second year as a U.S. senior pairs team, skated their competitive short program to "Better Than Yourself" by Lukas Graham. They did a double twist, side-by-side triple toe loops (hand down from Olivia), an Axel lasso lift, good side-by-side spins, and a throw triple flip. They looked well-trained and ready for the season. Tran also charmed the crowd by playing his ukulele and singing during one of the breaks between skaters!
Serafini/Tran said they are excited to go to ISU Challenger event, Finlandia Trophy, in a few weeks. It will be their first international competition together. The duo recently switched training locations from Montreal, Quebec, to Monsey, NY, where they're working with Jason Briggs and Jana Brazee at Sport-O-Rama. Serafini explained how the coaching change occurred.
"When our former coach [Bruno Marcotte] moved to Toronto [Oakville], we couldn't move there. And I knew Jason was a former pairs skater, so I called him for advice on where to go. And he said, 'Why don't you come here? We can help you.'"
The move has worked out well so far, and the team is happy with their new training situation. Tran said he does miss Montreal at times: "After 10 years there, it was almost part of my identity." But at the same time, he felt the time had come for a change. And he noted that maintaining full-time residence in the U.S. will be helpful for his citizenship process.
Three-time senior U.S. nationals competitor Megan Wessenberg, who recently competed at the ISU Challenger event, Lombardia Trophy, also performed her competitive short program in the show,  skating to "Tainted Love" by the cast of Burn the Floor.  It wasn't the best night for Wessenberg's jumps; she fell on her first double Axel and two-footed the second one. However, she showed great speed and smoothness on the ice, as well as fine spins. The program is very mature and stylish–a great package for her.
Wessenberg will join Serafini and Tran at Finlandia Trophy. She said she's looking forward to skating in Finland for the first time. She recently changed her short-program costume to a glamorous, sparkly blue long-sleeve dress, designed by Yumi Barnett-Nakamura. It's quite stunning.
Eight-time senior U.S. nationals competitor Sean Rabbitt appeared at EWC for the first time in his career. The 29-year-old skated to a Latin medley, including "Oye Como Va" by Carlos Santana, and quickly won over the audience with his hip-swiveling, unabashedly crowd-pleasing routine. Rabbitt did a triple Salchow (slight step out), double Axel (step out), a great footwork sequence, and an excellent combo spin to end the routine. His program was one of the highlights of the evening. What I find interesting about Rabbitt's skating is how willing he is to put himself out there and reach out to a crowd–much more so than most skaters–yet how he backs up those crowd-pleasing instincts with strong basic skating. His skating skills are very good; he has great extension, making the most of his height; and his spins are top-notch, with classic, stretched positions. He gives the audience what they want–but gives them quality skating along with it. It's a winning combination.
Rabbitt said he was very pleased to take part in An Evening with Champions for the first time. "They invited me two years ago, but I couldn't do it because I had a competition," he said. So he was glad to come this year. Rabbitt has several show appearances planned for the next few months and is also training for Sectionals in November.
Kailani Craine, five-time Australian national champion and 2018 Olympian, appeared in the show for the second straight year.  She skated her new competitive short program, a Latin number to "I Like It Like That," and hit a triple loop and double Axel. It was my first time seeing this program, and I really enjoyed it! This upbeat, sassy piece was a great fit in a show setting. Craine showed excellent expression to the music, really selling it to the max with a lot of fun flirtatiousness. Her step sequence had good flair and Latin character. And for those who haven't seen it yet, her costume is fab: A bare-midriff, coral-red-and-gold number with fringe galore–perfect for a Latin program.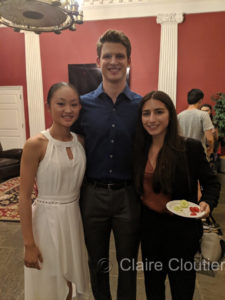 2018 U.S. junior champions Audrey Lu and Misha Mitrofanov performed a modified version of their competitive short program to Adele's "Skyfall." I really like this music selection for Lu and Mitrofanov. They are quite a tall team, with a big presence on the ice, and the strength and power of the music is an excellent fit for their skating style. Lu and Mitrofanov did a 'tano triple twist and good side-by-side triple toe loops, and they had nice strong edges through their step sequence. The team had a bit of trouble with their lift–it came down early–but they completed it cleanly afterward as an encore element. Lu and Mitrofanov have continued to add maturity and strength to their skating; now they just need a bit more fluidity and consistency.
Lu and Mitrofanov only performed in the Saturday show as they flew to Boston directly from U.S. International Figure Skating Classic in Salt Lake City, where they finished 5th. It was their second consecutive year at the Salt Lake event. When asked about competing at altitude, the duo looked at each other, then Mitrofanov said with a laugh: "It wasn't as bad as last year!" He explained that they tried to prepare for the altitude by doing full run-throughs and then immediately repeating the final section of their programs, to simulate the tiring effect of skating at altitude.
Overall, Lu and Mitrofanov were happy with their performances in Salt Lake and are looking forward to their upcoming events at Finlandia Trophy and Rostelecom Cup. They said they really like both their "Skyfall" short program and their new long program to Notre Dame de Paris. Mitrofanov commented on on their long program: "We worked with Hugo Chouinard on the music. He said, 'We're going to pick more mature pieces for the program.'" Chouinard is a well-known music arrangement specialist who works with the Gadbois ice dance group and other top skaters.
2011 U.S. champion Ryan Bradley put out an enjoyable program to Andy Grammer's "Don't Give Up On Me." According to co-host Paul Wylie, Bradley is coming back from an injury, but still managed to deliver a very nice performance with two clean-as-a whistle triple loops, a great camel spin, and one of his trademark back flips (hand down).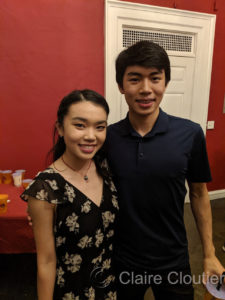 2017 U.S. champion and 2018 Olympian Karen Chen closed the show with a dynamic program to Avicii's "Addicted to You." It's so great to see Chen back after a year off dealing with injuries. She looked in fine form, landing a triple Lutz (step out) and triple toe loop. As always, her spins were gorgeous–fast, well-centered, with excellent positions. And she showed great energy, skating skills, and attack in her choreography.
Afterward, Chen said that she is excited to be skating again and starting her freshman year at Cornell University. She's been at Cornell for three weeks now–during which time she skated at the Autumn Classic International competition and An Evening with Champions–and termed it "absolute chaos so far." Her school/training schedule has yet to fully come together. She's training at a rink about 10 minutes from the Cornell campus, but has not yet been able to set up FaceTime sessions with coach Tammy Gambill. Chen said of the move: "I loved being in Colorado Springs, but I felt like I needed to challenge myself" by starting college at Cornell. Despite the hectic schedule so far, she's enjoying the experience.
Also on hand at the post-event reception was two-time U.S. pairs champion and 2014 Olympic team bronze medalist Marissa Castelli, who assisted with choreography and direction for this year's show. Castelli has been busy planning her upcoming wedding to fiance David Leenen. The nuptials will take place in Newport, RI, in October 2020. Leenen is in his third year of medical residency, with two years remaining, and was recently awarded an internship in Africa. He and Castelli will head to Africa in February 2020. "So now we'll travel for him, instead of for me," Castelli said with a smile.
Castelli continues to pursue her master's degree in management with DeVry University. She's also been doing some coaching with Bobby Martin's Skate Pairs group in Acton, MA. Castelli said that she would like to stay involved in the development of U.S. pairs skating via mentoring, coaching, and other work.
It was another great event this year at An Evening with Champions. And next fall will bring a big milestone: The show's 50th anniversary at Harvard! Now, that will be an evening to look forward to!