By Gina Capellazzi, website administrator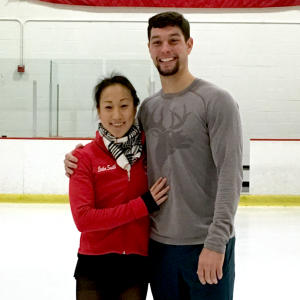 Erika Smith and A.J. Reiss teamed up in 2015. They represented the U.S. at two ISU Challenger Series events, Nebelhorn Trophy in 2016 (where they finished 5th) and Ondrej Nepela Memorial in 2017 (where they finished 6th). The two, who trained with Larry Ibarra and Dalilah Sappenfield in Colorado Springs, also competed in four U.S. national championships, with their highest placement being 6th in 2016.
This past spring, Smith, 30, and Reiss, 27, who are a couple both on and off the ice, decided to leave the competitive figure skating world for a new opportunity as cast members of the new Cirque du Soleil touring ice show, AXEL, which will have its world premiere at Montreal's Bell Center on December 19, 2019. Figure Skaters Online's Gina Capellazzi caught up with the two before their Oct. 12 show in Syracuse, N.Y. and asked them about this new adventure.
FSO:  As a pairs team, it is usually just the two of you on the ice, so what is it like to be skating with an ensemble?
AJ: I would say it is like joining a really big family. It is like getting introduced to an Italian style family. Everyone loves everyone. We all have our little differences here and there. We have 22 countries that we are all from and it is one of the most diverse casts and yet for me at least, the first two weeks we were here, I felt like I had known these people almost my whole life. So it is a lot more like a family and a lot more camaraderie than there is with competitive skating, where you are more on your own, in your unit, with your team. Obviously, you have your training mates and things like that, but at the end of the day, it is you and your partner against all the other people.
Erika: Everyone (in the cast) is a star. We all shine bright together.
FSO: What was the most challenging part about being a part of this show?
AJ: The most challenging thing for me was to learn new types of dancing. For Erika and I, we had a certain style that we do with our skating or we had a longer period of time to work on our choreography on the ice and just drill it, drill it, drill it. Now it is like you learn something in five minutes and they are like 'okay, go' and you are like 'wait, I don't get to practice it all.'
Erika: Karina (Manta) and Joe (Johnson) were instrumental in helping us, especially with the choreography so we were very very thankful to have them as assets.
AJ: We would learn the choreography from Sam Chouinard and do all these special dances.I would be like, 'Ahh I don't know what I'm doing' and I would get a little frustrated.You really have to take your own time to work with people like Joe and Karina, who were very nice. They got it a lot faster. We would work (with them) in the gym for like an hour (after rehearsals). Even after we spent all day working on our own choreography, we would take our own time implement that and use that for learning the steps and polishing and things like that. I think that was a big, rude awakening for me. I was like, 'Oh I'm not a good dancer. '
Erika: I think us interacting with other disciplines, like the acrobats, we all have different languages for how we communicate, not just language barriers, but how they discuss like different body movements. So I think that has been a really good challenge for us.
FSO: What is your role in the show?
AJ: We are used throughout different numbers (in the show), but our main number is called Star Mandalei.
Erika: We are the alter egos of Axel's imagination.
AJ: Erika is a ninja warrior chick. The avatar of Lei. Star Man is the best form of Axel, the guy he wants to be.
FSO: Describe some of your costumes.
AJ: My costume is sparkly and rainbow. It is pretty awesome and I have a toque similar to Axel's toque and that is kind of how they identify the characters being similar, alter ego wise. Plus, I also wear a jacket which is very similar to Axel's, but it is a different color.
Erika: I have a pink wig. It is pretty awesome. My costume is black and red. 
AJ: It is kind of samurai inspired.
AJ: Two minutes is the time you have to take something off and then put something on and also hang up your clothing because they don't like you to leave it on the chair, which is understandable because they (the costumes) are also quite expensive.
Erika: We also have gold snake helmets that we wear. I also have a pink dress with a triangle that lights up.
AJ: This is part of the fashion show number. The girls walk down the aisle with big dresses pulling behind them and it looks like a very vogue-y. It is very unique. It is something you have never seen before in skating.
FSO: What has been the transition like from competitive skating to performance skating?
AJ: I love the transition. I think it is amazing. I think it has given me time to work on my body and become stronger. It has given Erika and I a chance to work on a lot of things that we didn't get the chance or the opportunity to do because when you are in competitive skating and you start your new season, it is like you just train that one trick, day in and day out. Now, we have to prepare for things like a program B style program. So let's say my shoulder is hurt or Erika's ankle hurts and we can still skate and everything is fine, we have to alter our program a little bit. So we have been learning different tricks and new things to fill. It is quite amazing to see our evolution grow on a daily base.
Erika: I think it is a testament to everyone's adaptability.

AJ: It has been really nice to actually perform, more than just once. You focus so much on training for that one moment. Now we train a little less time on the ice, but we have multiple chances to perform. That is when you notice a big difference in your skating. The way you emote to people, the way you emote to each other and the way you tell your story. I feel like Erika and my storytelling has gotten so much stronger since we have been a part of Cirque. Everyone else's skating, you can see the progression in it. I think it is for the better sometimes.
FSO: Why did you decide now was the time to join Cirque du Soleil?
Erika: We were very fortunate in the aspect that we asked to be in a video. And we were like 'We would be honored.' We didn't think honestly anything of it, but then we would get a call back saying 'We would really love for you to join.' We were at limbo to a degree at that point and trying to get through last season. So we were like 'do we continue, do we keep pushing, what do we do?' And when it presented itself, we were like 'we need to talk just for a minute, can we call you back?'
AJ: When we hung up the phone, we were like, 'Do you want to do it?'  'Yeah.' 'Do you want to do it?' Yeah.
Erika: So we called them back and they heard us laughing and they were like, 'Are you okay?' and we were like, 'we want to accept these.' And they were like, 'Oh great'.
FSO: If you are trying to convince a skater to become part of Cirque du Soleil, what would you say to them about your Cirque experience so far. 
Erika: I think if you want to explore innovativeness without a lot of the rules with competitive skating, this (Cirque) really allows you to do that.
AJ: I think those who are in skating who are caught between 'should I continue or should I not continue?', I think a lot of that comes from like, 'Do I have a lot of opportunities to have exposure?' 'Do I get a lot of international assignments?' Do I compete on a world level?' Do people look at me at Nationals?' 'Is my investment in competitive skating really giving me something back?'. I think for Erika and I, it was definitely that we wanted more of a chance to perform more. If you are a person that wants to perform, want to be seen and show the people what you can do and show people how much you love what you do, this is the place to be because you will get 300 shows a year to perform your number and you can make it yours. You are not doing it for a score at the end of the day, you are doing it because you love what you do. There is something so different in the way the crowd reacts between competitive skating and Cirque du Soleil crowds. These people are really here to be a part of the experience of something magical and it is amazing. I can't explain how it sounds different, how it feels different, but when we finish our number, and everyone is like 'Woah!' That to me—I feel so rich, and with competitive skating, we didn't get that a lot. We did not get a lot of opportunities to perform. That was a huge upside for us to come here and be a part of this.
Read more about Cirque Du Soleil's AXEL in Part I and Part II of our AXEL Series with Ice-Dance.com.