By Claire Cloutier, Team FSO contributing writer
Header photo by Melanie Heaney
For many athletes who competed at Skate America last month in Las Vegas, the competition was just another stop on the schedule this season.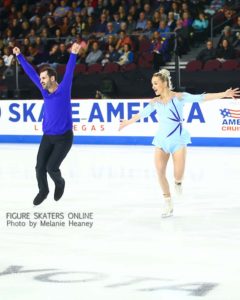 But for Zoe Jones and Christopher Boyadji of Great Britain, the competition meant much more. Jones and Boyadji were a late addition to Skate America after a pair that was already on the roster withdrew. The British team was excited to receive an invitation to a top-shelf ISU event. For Jones and Boyadji, the trip to Las Vegas provided, among other things, a much-needed jolt of motivation; a rare opportunity to skate with other pairs; and, not least, a chance to compete without incurring too much expense. (Plus, it gave Boyadji an excuse for his first-ever trip to the United States!)
When Figure Skaters Online spoke with Jones and Boyadji on the first day of practice at Skate America, the British team was thrilled to be in Las Vegas. "When we got the invitation from Skate America, we're like, 'Ahh, we can't turn this down,'" Boyadji said. "It's a Grand Prix, it's amazing for us."
Yet, the decision to skate in Las Vegas wasn't automatic for Jones and Boyadji. For this team, competing is seldom as simple as just packing up and flying to an event.
In truth, Jones and Boyadji's lives are quite different from those of most of the other pairs competing on the international circuit. Their story is unique in many ways: Zoe Jones is the oldest competitor in the international pairs field, at 39. She returned to elite competitive skating after a 13-year break from the sport. And, significantly, she is the only elite female competitor, in any discipline, who has children (to our knowledge). Yet, despite this unique background, Jones and Boyadji's story is also familiar. Like many skaters from small skating countries, they struggle with lack of funding and infrastructure. Their experience of competitive pairs skating is therefore both unique and, in some ways, universal.
Top skaters are usually looking for ways to maximize their training. For Jones and Boyadji, the challenge is not so much to maximize, but simply to keep training at all in the face of limited resources of time, money, and energy. It's a challenge that Jones and Boyadji face every day, yet one they continue to meet, out of love for the sport.
For Zoe Jones, her life in skating began at her local ice rink when she was 5 years old. She was 13 when she started competing internationally for Great Britain. Eventually, Jones won two British Nationals singles titles, but was never fully satisfied with her results.
"I was always very good in practice, in warmup," Jones said of her early career. "Competition was never a great experience for me. I never lived up to my own expectations."
As a young skater, Jones was interested in pairs skating and competed in junior pairs for one season. She later tried out with Clive Shorten, the 1999 British men's champion. However, the British federation didn't support the partnership. "We were the top boy and the top girl [at the time]," said Jones. "So they didn't want to pair us together, and it didn't happen. Pairs was always something that I'd wanted to do, but never really got the chance."
Jones retired in 2001, at 21 years old. She married Canadian professional hockey player Dody Wood and lived in Canada for a number of years. In 2007, she gave birth to twin girls, Zarah and Zinia, now 12. Jones and Wood later divorced.
Returning to Great Britain, Jones settled in her hometown of Swindon, a city in Wiltshire  midway between London and Bristol. After her son Zkai was born in 2012, she was looking for a way to get back in shape and turned to skating. "It was easier to skate. It was what I loved to do," she said. "I started coaching in Swindon around this time. So after I'd done some coaching, I would skate a little bit."
What started simply as exercise turned into something more. Jones decided to compete at the ISU Adult Figure Skating Competition in Oberstdorf (generally considered the most prestigious competition in adult skating).
"Being a high-level athlete, you always try and push yourself. And I decided to do the adult competition because of Midori Ito," Jones said. Ito, the 1992 Olympic ladies' silver medalist, competed at the 2013 ISU Adult Figure Skating Competition. "I thought if she could do it, then why don't I try? I wanted something to aim for."
Jones competed at the ISU adult event in Oberstdorf for two years, winning the Masters Elite  Ladies I Free Skating event (the highest level of adult ladies skating) in 2014 and 2015. 
"My goal was to do a triple. Because I don't think a girl had ever done a triple there [at Oberstdorf] before," said Jones. She went for a triple toe loop both years she competed at Oberstdorf and landed it, fully rotated, in 2015.
Her success in adult competition motivated Jones. "I started pushing myself a little bit more to do all the other triples. On my third attempt of each triple, I was successful. I posted a video on Facebook. And all my friends said, 'Oh, you should do [senior] Nationals.'"
Jones wasn't sure. "I didn't want to fail," she said. "I didn't want to be the old person that went out there and fell and everyone laughed at. But, I decided to go for it. I had a lot of support from friends. The day of the free program [at 2016 British Nationals], I was the most nervous I'd ever been in my life. I didn't expect anything, really. But I skated the best I could have. And I won the free program, and I was second."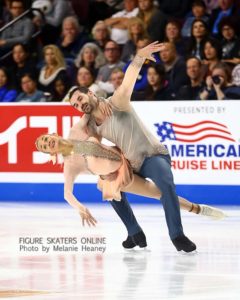 It was a triumphant moment. At 35, after three kids and 13 years away from the sport, Jones was back on the podium at her Nationals.
Yet she wasn't sure what she wanted to do next. "I didn't think I could keep going as a single lady, because the standard is obviously quite high," said Jones.
During her trips to Oberstdorf and British Nationals, Jones had met Christopher Boyadji, a pairs skater who was training in Germany at the time with his partner Amani Fancy. Boyadji had been born in France and competed as a singles skater before switching to pairs. In 2013, Boyadji began competing for Great Britain with Fancy. However, the partnership ended in early 2016, not long after Jones's silver medal at British Nationals.
When Boyadji posted online that he was looking for a new partner, Jones decided to reach out.
"I received a message from Zoe, telling me that her dream was always to do pairs," Boyadji said. "And she's sorry that I have no more partner, and she was wondering if I would consider trying out with her, because she had done pairs when she was younger, and she used to love it."
"I didn't actually expect to get a reply from him," Jones admitted.
But Boyadji invited her to try out with him in London. "So she came, and we tried together, and it went very well," Boyadji recounted. "And that's it. I took my stuff and moved to Swindon."
A first order of business was to find a coach. There were no pairs coaches available in Swindon. "Pairs isn't a big thing in our country. So there's not really many pairs coaches," Jones explained.
Boyadji turned to Facebook for help–specifically, the Facebook page of the British Ice Teachers Association (a coaches' group). "I posted on this group [to see] if there was any coach who could help us, even an ice dance coach. Just to have someone," said Boyadji.
Ruth Woodstock, a British coach and former pairs skater, replied to the post and agreed to become Jones and Boyadji's coach..
The partnership grew quickly. "Becoming a team was easy, because we get along very well," said Boyadji. "We don't argue, ever. We're not this type of team that argues. And because we don't have so much time to skate, we don't waste time on things. If we can only skate one hour, we'll skate one hour, because we know it's the only time we have."
Lifts were the most challenging element for the new team to master. "Not getting the lift up; it was the changes in position," Jones explained. "Even though it's only three and a half rotations [per lift], just changing and trying to count–I'd always come down too soon or not soon enough. For me, this was the worst part, the most stressful bit. Obviously, first starting on throws … I remember literally feeling my heart beating out of my chest. But they were never really an issue, once they got going."
Boyadji added: "Twist was a hard element for us. I think it is easier when you have a height difference. And I'm not a very tall boy," he said with a smile. "And Zoe's not the shortest. So it's a bit tricky for us. But we do what we can." Jones stands 5'2", while Boyadji is 5'9½".
Jones and Boyadji started competing together internationally only three months into the partnership. In their first season, they qualified for both Europeans and Worlds. In their second season, they were invited to compete at Internationaux de France (their only Grand Prix event prior to Skate America), and again skated at Worlds.
Yet, although Jones and Boyadji were competing at the international level, it was–and remains–an ongoing challenge for the couple to find the money and time necessary to train.
"We have no funding from the British federation," Boyadji said. "The only funding you can get [in Great Britain] is from the UK Sports Ministry. And the only way they will give you money is if you win a medal at the World Championships. Then, they will fund you for the Olympics. So when I say no funding, I'm saying zero dollars. They pay nothing."

(Note: A few weeks after this article was published, the British Ice Skating Association announced a small retrospective financial contribution to all British figure skaters who competed in major ISU championships during the 2018-2019 season. See their statement on Instagram: https://www.instagram.com/p/B5ut336HN6V/?igshid=u345pq8lzj9m.)
Jones and Boyadji launched a social media crowdfunding page in their second year together to try and raise money for training. However, the remaining funding comes from their own coaching work. They coach together at the Swindon rink, often seven days a week, sharing most of their students. They are on the ice coaching at 6:00 am daily.
"It makes [for] a long day," said Jones. "But that's how we live–that's how we fund ourselves."
"Yes, that's how we fund our skating," Boyadji agreed.
Boyadji recently co-founded the Elite Skating Company to sell a new training tool that he designed for skaters. His product, the Elite Spinner, has received favorable mentions on social media from prominent skaters like Nathan Chen and Jason Brown. Boyadji hopes the product will become popular among skaters (and eventually profitable).
Finances are an ever-present concern for Jones and Boyadji. They cannot always afford to have their coach come with them to competitions, as her hotel and airfare expenses would add to costs. For example, Jones and Boyadji skated the first day of practice at Skate America by themselves, because it was more affordable for their coach to fly to Las Vegas on a later flight. Having their own airfare covered by the Skate America organizing committee was a significant benefit to the team. Normally, they must consider costs carefully before deciding to do a competition, or any type of event.
"We can't even really go and do a [pairs] camp in the summer," Jones said. "Because one, obviously, it's a lot of money. And then, two, if we're away at camp—"
"We can't teach," said Boyadji. "We lose on both sides."
"Even if we had the money to go to the camp, then we wouldn't be earning a wage," Jones concurred.
Money may be in short supply. But for Jones, as for many parents, perhaps the scarcest resource is time. With three kids to manage, Jones's daily routine is packed. After early-morning coaching at the rink, it's time to get the kids ready for school.
"School run, training. Then gym, lunch, training, school run, coaching," Jones said, laying out the daily schedule. In addition, there is homework and meals to manage.
Jones's three children all participate in athletics (track & field) and figure skating. Her twin daughters skate competitively at the Basic Novice level in Britain. Her son does not yet compete but takes lessons. Boyadji serves as the children's coach, with Jones choreographing the girls' programs.
"I make the programs up. That's hard enough," Jones said with a smile. "Mother and daughter on the ice– it's not a great combination. So I leave all the other stuff to him."
The schedule is workable in part because they're all at the rink much of the time. "While we teach, the kids skate," Boyadji said. "It's not like if she was working in an office or something. It's a place where they're comfortable."
"We get a lot of support from the parents of our other students," Jones added. "Because my kids go to the same schools as some of our other students. Sometimes the parents bring the kids from school to the rink. But not always. Sometimes it's a mad dash–I take my skates off, run to the car, zoom there, pick them up, and run back."
Jones's mother lives near Swindon and can provide assistance with child care. "Without the family support, it would be very difficult," said Jones. "We're lucky in that way, that we have people to help us." 
With the children settled in school, and family and friends nearby, leaving Swindon to train elsewhere is not a conceivable option right now for Jones and Boyadji. So they carry on, although the training situation is rather less than ideal. There are no other pairs teams training at Swinton, and their coach Ruth Woodstock is based elsewhere.
"For us, literally, the only time we see other pairs is when we come to competitions. We train on the ice with adult skaters, and small kids sometimes. Our coach comes to see us twice a week. And the rest of the time, we train by ourselves," Jones said.
"For her, it's a big commitment," Boyadji noted of Woodstock. "She drives two hours to come and see us, and drives back the same day, just to spend two hours with us and do the best she can. She's trying very hard."
In addition to time and money pressures, Jones and Boyadji have also faced injury problems. Jones dealt with a hamstring injury last season, which got reaggravated during the off-season. She's also been dealing with ankle issues.
As an older athlete, Jones recognizes the need for more recovery time, but doesn't always find it easy to comply. "If it's not been a good day on the ice, I want to go to the gym and make sure I do my work in the gym. Which isn't always the best thing," she said. "I have to try and pull back a little bit. I'm starting to find a good balance."
Although Jones and Boyadji love skating together, they admit that the pressures and constraints of their situation sometimes affect their motivation to continue in the sport.
"We almost didn't do last season [2018-19]," Jones revealed. "Chris basically did last season for me."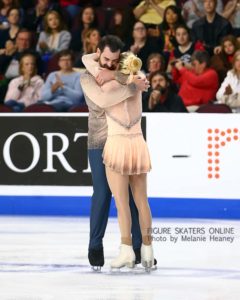 Boyadji explained: "Approaching Milan [the 2018 World Championships], I said: 'Let's quit. We spend so much money. We work so hard, and we don't put any money on the side, because we spend everything on skating. It's not worth it.' So we had a long discussion, and Zoe really wanted to do one more season. Because Worlds 2018 were not good. And she said, 'I don't want to stop on such a bad effort.' So I said: 'Okay, let's do another season then.'"
The team was slowed by Jones's hamstring injury in fall 2018. However, they picked up pace as the season went on, first competing at Europeans and then at Skate Israel to get their minimums for Worlds.
"And we became better and better and finished on a high note at 2019 Worlds with two clean programs," Boyadji said proudly. The team placed 17th in Saitama, improving 9 spots from their previous best.
"People are always asking me, 'Why? Is it the result?'" Jones said, referring to why she skates. "And for me, it's not about that. We know we're never going to be in the top 5. In Japan, we did, for us, two clean programs. I knew I couldn't have done any better. And for me, that's what it's about. My dream has always been to go out there and finish the program and cry those happy tears. Because you know you've done everything you worked for. For me, Japan was that moment."
Jones and Boyadji had achieved their goal–to end the season on a high note. But would it also be the end of their career? Jones had wanted to finish with performances that she could be proud of. "But then, when you do that good, it's like, maybe I can do more," Jones mused. Again, the couple faced the question of whether or not to continue.
"Even if we love it, even if we have a passion to skate, it's not that simple," Boyadji said. "We're not in a nice rink with five pairs teams, working hard. We're by ourselves. Coaching, kids, and everything. So sometimes, it's hard to find the motivation. Being invited to Skate America was something that sparkled–and gave us something. We'll do a Challenger afterward [Warsaw Cup], and the British Championships. And we're thinking we need to do Europeans, because Zoe will be 40 for Europeans. [Jones's birthday is on January 14.] It will be the first time ever that it happened in the skating world–that a skater came on the ice at the European Championships at 40 years old."
"I like to push myself to give one hundred percent and be achieving something," Jones said. The internal drive that led her back to skating after 2012, into adult competition, and then finally to senior international competition, is still very much alive.
"Zoe, in her head, she's 16," Boyadji said of his partner. "Her body's a bit struggling, but she's extremely determined. She really wants to do it. And in her heart, she's very strong."