By Maura Sullivan Hill, Team FSO writer
Photos by Ed Rode Photography
NASHVILLE, Tenn. — The cast of "Scott Hamilton and Friends" will take to the ice and to the stage at Bridgestone Arena in Nashville on Sunday, Nov. 21, 2021, for the fifth benefit show in Music City. The performance supports the work of the Scott Hamilton CARES Foundation, which funds cancer research.
CARES stand for Cancer Alliance for Research, Education, and Survivorship, and the foundation's goal is to "change the future of cancer."
"It's the 25th show I've done like this, with live music and skating, and it's really fun. It's an honor to do it," said Scott Hamilton, 1984 Olympic Champion, legendary figure skating broadcaster, and founder of the CARES Foundation. "And I get to work with my heroes, which is really cool. Just to be able to produce shows like this, it's really fun."
Hamilton, who is a cancer survivor himself, convenes his ice show each year to raise money for the foundation, pairing live musical acts with figure skating performances. This year's show features a cast of Olympians and Grammy winners.
The on-ice cast includes Katia Gordeeva, two-time Olympic Pairs Champion; Illia Kulik, 1998 Olympic Champion; Kaetlyn Osmond, 2018 Olympic Bronze Medalist and World Champion, Jeffrey Buttle, 2006 Olympic Bronze Medalist; Jeremy Abbott and Gracie Gold, who individually are U.S. Champions and 2014 Olympic Team Bronze Medalists; Olympic Team Gold Medalist and Pairs Bronze Medalist Meagan Duhamel with Dylan Moscovitch, an Olympic Team Silver Medalist; three-time World Medalists Kaitlyn Weaver and Andrew Poje; Women's and Men's U.S. Champions Alissa Czisny and Ryan Bradley; and international competitor and social media star Elladj Baldé.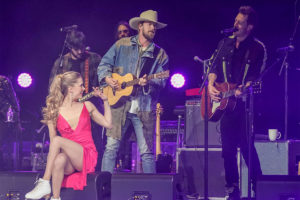 They'll be performing to live music by Lady A, Maren Morris, Hunter Hayes, for KING & COUNTRY, Grace Potter, CeCe Winans, and Sixwire, plus other possible surprise musical guests. "I might have a couple of surprises up my sleeve," Hamilton said in a pre-show interview with Figure Skaters Online (FSO). "We're still sort of in the mode of rallying the troops, some friends that were on tour and are back home now. So we'll see who else we can put up on stage and surprise our audience."
This year, the show is dedicated to the memory of the late music producer Busbee, who worked with featured performers Lady A and Maren Morris, as well as pop music standouts including Pink and Shakira. The funds raised from the show and the accompanying After Show Celebration fundraising dinner will go towards research on glioblastoma, a form of brain cancer.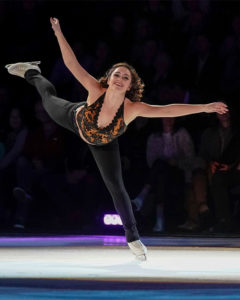 "Busbee, he was prolific. He was an amazing man and he lost his battle to glioblastoma two years ago," Hamilton said. "His wife just moved to Nashville and we just thought it'd be a really cool thing to celebrate his life and his music by putting together a show in his honor to raise money for the cancer that took him from us. His wife is partnered with us and she's just been remarkable in helping us put this show together with a really different and very strong identity this year of dedicating it to Busbee."
The combination of live music and skating makes this show unique for both the audience and the performers. The floor seats that are usually in front of the artists are replaced with a sheet of ice for the performing skaters.
"It's unique, it's very intimate, the way we set it up at Bridgestone Arena," Hamilton says. "Our house band, Sixwire, did the show last time, but none of the other artists have ever done one of our shows before. So they all come in, and it's their domain right? There's the stage and there's lights and their music and everything set up just the way they like it. And then there's this big sheet of ice in front of them, which is completely different. They're used to having screaming fans in front of their faces, and now they have skating. They really have the best seat in the house."
The "Scott Hamilton and Friends" show is one of the annual fundraisers for the CARES foundation, and after not holding the show last year during the pandemic, Hamilton says, "the main thing is what I'm always excited for, and that's for people to witness this event. Because they have ideas of what it's going to be like, and then they see it and realize it's beyond anything they've ever experienced before. The live music component, familiar songs, and the skaters, just the athleticism and the beauty and the speed and the power. To combine those two elements makes it so unique to anything else out there."
Hamilton gets on the ice as the MC for the evening, and adds: "It never gets old. We've done the show in other cities, in other ways, but this, it's just spectacular."
The show takes place Sunday, Nov. 21, 2021 at 5 pm at Bridgestone Arena in Nashville. Visit https://www.scottcares.org/scotthamiltonandfriends to purchase tickets to the show or the After Show Celebration, and to donate in support of the event.