At the Internationaux de France, the fifth of the six Grand Prix events, reigning World Champion Anna Shcherbakova took home her second ISU Grand Prix gold medal, and in doing so qualified for her second Grand Prix Final.
But it wasn't a perfect performance for the 17-year-old. Opening her "Ruska," "The Master and Margarita" and "Lacrimosa" free skate, Shcherbakova slipped on the take-off of her planned quadruple lutz and fell. She recovered to hit a quadruple flip and seven triple jumps. She scored a 151.75 in the free skate, well-off her personal best free skate score of 165.05 that she earned two weeks prior at the Grand Prix in Italy. She won the gold medal with a total score of 229.69.
"I was shocked after the performance – I didn't understand what happened on my first jump and after the program I was still not realizing what happened," Shcherbakova said. "The jumps went well in the warm-up and I was very confident. The mistake threw me off and I was very upset, but I did all my elements afterwards, which was very important."
On Friday, Shcherbakova debuted a new short program – changing up her "The Songs of Distant Earth" short program that she skated just two weeks earlier in Italy, to "Dangerous Affairs" and "Total View". Shcherbakova said the decision to change the program came from coach team of Eteri Tutberidze, Sergei Dudakov and Daniil Gleikhengauz.
"They said the new program will be better for me and that I did not look the way they wanted me to look in the previous program," she explained.
With the maximum score of 30 from her wins in Italy and France, Shcherbakova has qualified for the Grand Prix Final in Osaka, Japan in December. This is her second Grand Prix Final. She won the silver at the 2019-2020 Grand Prix Final.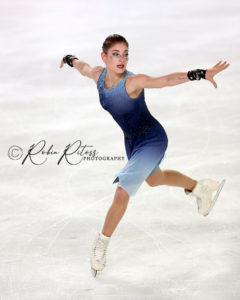 Shcherbakova's training mate, Alena Kostornaia, took home the silver medal in Grenoble. Performing to her "Lovely" by Billie Eilish free skate, Kostornaia also got off to a bit of a rocky start, missing her triple Axel, yet, she rallied to execute seven triple jumps. The 18-year-old set a season's best score of 145.41 and a total score of 221.85.
"I made a mistake on my triple Axel, a big mistake," said Kostornaia. "I was shocked because I did it in the practices in Moscow and we hoped I'd do two triple Axels, but I couldn't and it was sad. But I did the other jumps and I'm happy about it."
With her third place finish at Skate Canada and her silver medal at France, Kostornaia has earned 24 points and will have to wait and see after the Rostelecom Cup, the final Grand Prix event, if that will be enough to qualify for the Grand Prix Final.
After landing a ratified triple Axel in the short program for the first time and winning the gold medal at the Challenger Series, Cup of Austria just the week prior, 2018 World silver medalist Wakaba Higuchi, of Japan, found herself in sixth place after singling her triple Axel attempt in the short program. However, she rallied in the free skate to land a slightly under-rotated triple Axel, along with six triple jumps. The 20-year-old achieved a personal best free skate score of 141.04, and a total score of 204.91 to win the bronze medal.
"Today was the best performance of the season and I am satisfied," said Higuchi. "I made some little mistakes, that's why my score was 141 points, but it is a good learning curve and I can improve going into Nationals."
Higuchi will next compete at Japanese Nationals, December 22–26 in Saitama.
After finishing the short program in third place, Kseniia Sinitsyna, of Russia, slipped to fourth place with a total score of 198.76. The 17-year-old had three slightly under-rotated triples jumps in the free skate. The 2020 Youth Olympic silver medalist will now compete at Russian Nationals, Dec. 21-26 in Saint Petersburg.
Team USA's Karen Chen finished in fifth place with a total score of 194.00. The placement was an improvement from the 2017 U.S. Champion and 2018 Olympian's 10th place finish at Skate Canada in October. She will next compete at the 2022 U.S. Championships in Nashville, Tennessee, Jan. 3-9, 2022.
After a disappointing short program, 2020 U.S. silver medalist Mariah Bell pulled up from tenth place to sixth place (190.79) in her first Grand Prix of the season. The 25-year-old will compete at Rostelecom Cup in Sochi, Russia and then will compete at ISU Challenger event, Golden Spin of Zagreb in December.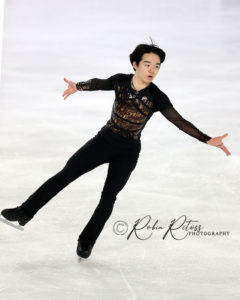 In the men's event, like Shcherbakova, 2021 World silver medalist Yuma Kagiyama, of Japan, earned his second Grand Prix gold medal of the season to qualify for Grand Prix Final, which will be his first senior Grand Prix Final.
Performing to the music from the movie, "Gladiator", the 18-year-old completed a quadruple salchow, quadruple toe-triple toe, a quadruple toe and five triple jumps. His only error came when he singled his second planned triple Axel. He earned a free skate score of 185.77, which was about 12 points lower than his free skate score of 197.49 two weeks prior at Grand Prix Italia. Kagiyama's overall score in France was 286.41.
"I am really happy to win the second gold in my first Grand Prix season," Kagiyama commented. "The Grand Prix Final was part of my goals for this season and since it takes place in Japan, I really wanted to take part there and I am glad I make it."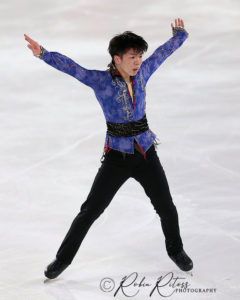 After finishing the short program in fourth place, which is the position he finished at Skate America in October, Shun Sato rose to win his first senior Grand Prix medal — a silver — in his first real season on the senior Grand Prix. His free skate to "The Phantom of the Opera" included four quadruple jumps — a quadruple Lutz, quadruple flip and two quadruple toes. The 17-year-old earned a season's best free skate score of 177.17. The 2019 ISU Junior Grand Prix Champion's total score was 264.99.
"This is my first Grand Prix season and finishing on the podium was my goal," Sato said. "I am really happy to be on the podium for the first time but I need to catch up to Yuma so I will work hard," he added.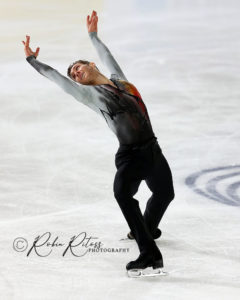 After winning the silver medal at Skate Canada International, Team USA's Jason Brown claimed the bronze medal in Grenoble. He opened his "Schindler's List" with a quadruple Salchow. While Brown landed the jump on two-feet, the technical panel credited him with a full rotation, marking Brown's first credited quadruple jump in competition. The 26-year-old went on to complete five clean triples, but singled the triple salchow and doubled his triple loop. The 2020 ISU Four Continents silver medalist finished the free skating in fourth place with a score of 174.81, but managed to hold on to third place with an overall score of 264.20.
"This is my eighth or ninth Grand Prix season and I feel so lucky to still be up here," Brown said. "I'm really happy to be up on the podium today. My second half (of my program) was a bit rough but I am proud of the first half. It's definitely learning a lot as the season goes on and trying to kind of take every step along the way and grow from them and bring it into the next competition," he continued.
Brown will have to wait and see whether his second place at Skate Canada International and third place in France will be enough to take him to the Final. If he doesn't qualify for the Grand Prix Final, Brown will compete at the ISU Challenger Series event, Golden Spin of Zagreb, taking place this year in Sisak, Croatia.
Latvia's Deniss Vasiljevs, who was in second place after the short program, dropped to fourth place with an overall score of 254.48. 2020 European Champion Dmitri Aliev, of Russia, finished in fifth place with 253.56. Canada's Keegan Messing rounded up the top six with a total score of 253.06.