By Scott Mammoser, Team FSO contributing writer
TALLINN, Estonia – Ilia Malinin's breakthrough performance to win the Junior World Championships on Saturday could perhaps be the dawn of a new era in U.S. men's skating.
It was an interesting winter for the 17-year-old from Vienna, Va.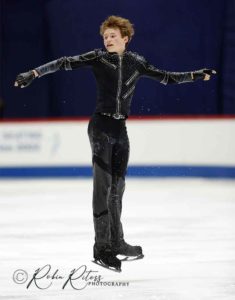 Malinin's silver medal in the U.S. Championships nearly sent him to the Beijing Olympics. Two months later, he posted a personal best and was in fourth place after the short program at the Senior World Championships in Montpellier, France. However, a rough free skate pushed him down to ninth, behind teammates Vincent Zhou, who won the bronze medal, and Camden Pulkinen, who finished in fifth place.
This week, his 42-point win over silver medalist Mikhail Shaidorov of Kazakhstan in Tallinn featured four quads and a triple Axel.  Malinin finished with a combined score of 276.11 and a wide improvement from his 16th-place result in the same event at the same rink two years ago.
"I feel relieved that I was able to finish the season with a clean long and with the effort I put in today," Malinin said. "It was definitely to show that I am working on consistency and plan to skate cleanly in every competition. I knew I needed clean jumps, and it was important to show that. We intended that if I could do well with four quads, then next season, we could add more."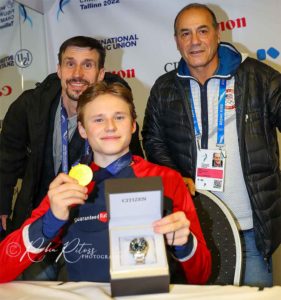 Malinin was basically born into the sport, the son of former Four Continents and Grand Prix Final champion Tatiana Malinina and her husband, Roman Skorniakov- an Olympian in 1998 and 2002. The former athletes, who represented Uzbekistan, also coach their son, with the help of Rafael Arutunian.
"I noticed that I knew I had to work on better jumping and spins," the high school student added, "so we worked on those the most, and it definitely worked out in the long run."
This was evidenced in Montpellier, where Malinin was penalized for downgrading two of his jumps in the climax competition of his young career.
"After the Worlds long (program), it was shocking," he added. "I learned I need to keep up my motivation, and I can skate cleanly and not have this happen again. It gives me motivation because it gives me time to work on things that were not that good here."
Malinin is now on a list of 16 American men to win the World Junior title since the event's debut in 1976. 2018 Olympic team bronze medalist Adam Rippon is the only man to win two gold medals at the World Junior Championships.
Malinin named current Olympic champion Nathan Chen, who won theworld junior bronze medal in 2014, as a skater he admires.
"I look up to Nathan because he inspired me," Malinin said. "He has been consistent these last few seasons, and it motivates me to not screw up so much."
Now that Chen's future in skating is unknown, as well as that of Zhou, both who plan to return to school at Yale and Brown respectively, Malinin could be the favorite going into the next Olympic cycle.
In addition to Malinin, Washington state native Liam Kapeikis, who was fourth after the short program, finished eighth overall, while current U.S junior champion Kai Kovar of Utah was 18th.