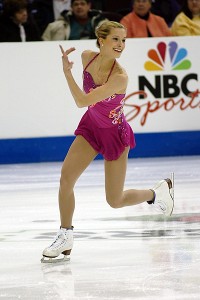 The two American entrants in the ladies competition at the NHK Trophy have very different roles. While Ashley Wanger is among the medal favorites, Becky Bereswill is the newcomer, making her debut on the Grand Prix circuit in Nagano, Japan.
"I am really excited to be skating on the Grand Prix after skating so well on the Junior Grand Prix last season," said Bereswill, who won the Junior Grand Prix Final last year. She started her season with a 12th place showing at the Finlandia Trophy.
Wagner is a Grand Prix veteran, having made her debut by placing fifth at 2007 Skate Canada. She has two medals in her collection, a bronze from 2007 Trophee Eric Bompard and a silver from the Rostelecom Cup held last month in Moscow, Russia.
With another medal winning performance in Nagano, Wagner could qualify for her first Grand Prix Final, which would boost her chances of being one of the two women selected for the 2010 U.S. Olympic team.
NHK Trophy is the only Grand Prix assignment Bereswill received.
Among the international competitors in Nagano are Rostelecom Cup Champion Miki Ando of Japan and bronze medalist Alena Leonova of Russia. Ando is the 2007 World Champion while Leonova is the 2009 World Junior Champion.
Also competing is Yukari Nakano, who has record three top-five placements at Worlds.
The ladies short program is scheduled for 7 p.m. local time at the Big Hat arena on Friday. The free skate is Saturday starting at 6:45 p.m.
NHK Trophy is the fourth event of the 2009 International Skating Union (ISU) Grand Prix of Figure Skating circuit. The series, now in its 15th season, consists of six international events in a cumulative, point-scoring format. The top six scoring athletes in each discipline move onto the Grand Prix Final, Dec. 3-6, in Tokyo, Japan, which will be combined with the ISU Junior Grand Prix of Figure Skating Final for the second consecutive season.
The six Grand Prix events are Trophee Eric Bompard, Oct. 15-18, in Paris, France; Rostelecom Cup, Oct. 22-25, in Moscow Russia; Cup of China, Oct. 29-Nov. 1, in Beijing, China; NHK Trophy, Nov. 5-8, in Nagano, Japan; Skate America, Nov. 12-15, in Lake Placid, N.Y.; and Skate Canada, Nov. 19-22, in Kitchener, Canada.
The points toward the Grand Prix Final that are awarded for each place are 15 points for first; 13 points for second; 11 points for third; nine points for fourth; seven points for fifth; five points for sixth place; four points for seventh place; and three points for eighth. In pair skating, only the top six receive points.
__________
Figure Skaters Online strives to be an accurate source of information related to the sport of figure skating. To report an error, please e-mail the news editor. Include the article date and title in your e-mail.