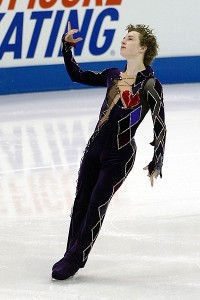 Kiri Baga and Adam Rippon were nominated by U.S. Figure Skating for the U.S. Olympic Committee's Female and Male Athlete of the Month based on their performances in October. U.S. Ice Dance Champions Meryl Davis and Charlie White were also nominated for the second consecutive month in the Team of the Month category.
Fans, who account for one-tenth of the entire vote in each category, are able to vote for their choice in the female, male and team categories through Nov. 8 via polls posted on the @USOlympic Twitter. The direct poll links are: http://twtpoll.com/lm64jn for female; http://twtpoll.com/3g4mbt for male; and http://twtpoll.com/0un2o8 for team.
Baga won the gold medal at both of her Junior Grand Prix assignments during the month of October, first taking gold in Dresden, Germany, and then again in Istanbul, Turkey. It is the first season of international skating for 14-year-old Baga, who is the 2009 U.S. Novice Ladies Champion.
Rippon started making his case for the 2010 U.S. Olympic team by winning the bronze at Trophee Eric Bompard in Paris, France on Oct. 17. The two-time World Junior Champion placed third in the short program and the free skate to capture his first Grand Prix medal.
Davis and White won the gold medal at the Rostelecom Cup in Moscow, Russia. The 2009 U.S. Champions performed a superb free skate to Phantom of the Opera, placing first with 32 points to spare. They earned 101.02 points on their winning free skate alone, a new personal best.
The team were nominated in September for their win at Nebelhorn Trophy but did not place in the top three.
Figure skaters who have previously won the award include Evan Lysacek, who has twice been the USOC Male Athlete of the Month, and ice dancers Tanith Belbin and Ben Agosto, who were the March 2009 Team of the Month based on their silver medal at the World Championships.