By Maura Sullivan Hill, Team FSO staff writer
Photos by Robin Ritoss
NASHVILLE, TENN — Ashley Cain-Gribble and Timothy LeDuc won their second U.S. pairs title in convincing fashion, eclipsing their previous U.S. personal best by 12.87 points with a total score of 225.23. And they also punched their ticket to Beijing, earning a spot on the 2022 U.S. Olympic Team.
"We're so excited and so grateful. This is a career-long goal accomplished, and now our focus turns to what we want to accomplish at the Olympics," said LeDuc, the first openly non-binary athlete to qualify for the Olympics. "We're ready to go. We've worked really hard all season, building ourselves up, and we feel like we have more room to grow to show really our best programs ever at the Olympics. We're just so amped up and excited for this."
They set a new U.S. record in the short program with their score of 79.39, where they looked sharp and clean. In the free skate, they built on that and had a solid outing, with the only error being Cain-Gribble's double salchow in the triple salchow-double toe-double loop combo. They earned Level 4 on all their lifts and the pair spin, with a Level 3 on the triple twist.
"I'm proud of our team and the way that we handled everything this season and over the last four years," Cain-Gribble said after the free skate. "We're pretty speechless right now, because I think we were so laser focused this whole week that we feel tired. We feel exhausted, but just so much relief and gratitude."
Conspicuously absent from the competition were defending champions Alexa Knierim and Brandon Frazier, due to Frazier testing positive for COVID-19 earlier in the week. The pair petitioned and earned a spot on the 2022 Olympic team, Knierim's second Olympics and Frazier's first.
"I am super honored and grateful to be named to the team with Brandon. I believe the best is yet to come," said Knierim, who came to the team announcement in person. "We were so ready and prepared to compete here this week, it was devastating for us [to withdraw], but obviously right now we're on cloud nine, so it's been a roller coaster."
Frazier joined the press conference via Zoom from his hotel room, and said he was feeling "100 percent back to normal." Frazier was alone in his hotel room when Knierim called him on Facetime to tell him they made the Olympic team.
"[It] was bittersweet, just because I wasn't even able to hug Brandon and share that moment with him, but luckily my family was here with me and Chris [Knierim, her husband and previous partner]," Knierim said. "It wasn't the moment I wanted Brandon to have, making his first Olympic team, so that's a little bit hard for me."
Frazier shared: "I know every athlete that wants to make the Olympic Team, they dream that few seconds when they get that notification, what it's gonna be like. I never imagined it to be how it actually went down last night, but that's when I knew that this truly meant the absolute world to me, because I was just as happy when I found out on Facetime with Alexa and Chris. Obviously, I wish I could be around Alexa, wish I could be around my family — that would have made it that much sweeter, but I think my smile was just as big."
Jessica Calalang and Brian Johnson won their third consecutive U.S. silver medal with a score of 209.87. Their lifts were the class of the field and earned all Level 4s, along with their triple twist. Calalang took a hard fall in the warm up but was able to recover for the performance.
Jump troubled plagued them in the free skate. She doubled the side-by-side triple salchows and he had trouble on the triple toe-double toe combo, and they had a two-foot landing on the throw triple salchow.
"As you could tell, that wasn't the performance that we wanted. We haven't been training exactly like that, so we were hoping to have a better long program performance, but just the overall week, we really wanted to take the approach to just stay present, stay in the moment because this was a moment that we really didn't think we were going to have," said Calalang, who was cleared of doping allegations earlier this year when it was found that a makeup product she used metabolized into a banned substance. "So I feel like we accomplished that. We took everything step by step. In that performance we really had to fight for each element. It wasn't easy, but you know we got it done and we moved on, one element to the next."
Calalang and Johnson are the first alternates for both the Olympic and World teams.
Audrey Lu and Misha Mitrofanov, pewter medalists in 2021, earned the bronze here in Nashville. Their huge throw triple lutz was the highlight of their free skate, and improved upon the short, where Lu put her hand down on the element. However, other jump errors took away from the performance; he put a hand down on their jump combo, she fell on the side-by-side triple toes, and he stepped out of his.
"Today was a little bit rough for us, but I'm very proud that we were able to push through no matter what. Everybody has their on days and their off days, but we're definitely very happy and very grateful to be here as well," Mitrofanov said in the press conference after the event. "We're happy to be in front of a live audience as well. That for us was just huge, because most of the season we weren't really in front of a huge audience, so this one was really nice to be in front of."
Lu and Mitrofanov are the second alternates for the Olympic and World teams and were assigned to Four Continents in Tallin, Estonia, from Jan. 18-23.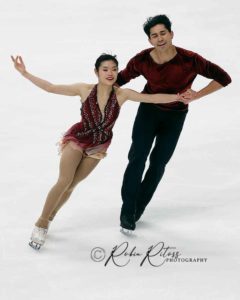 Joining Lu and Mitrofanov at Four Continents will be Emily Chan and Spencer Howe, who took the pewter medal here after fighting through a difficult free skate. They had some jump issues and then it looked like they weren't going to be able to get the final lift up, but Howe preserved and lifted his partner. It only received a Level 3 and got negative GOE, but the crowd recognized his effort with applause. The pair is also the third alternates for both the Olympics and Worlds.