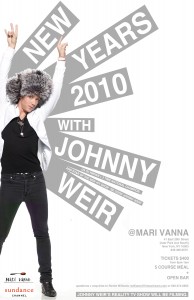 Fans are invited to ring in the New Year with three-time U.S. Champion Johnny Weir in New York City. Fresh off his bronze medal winning performance at the Grand Prix Final in Tokyo, Weir will countdown to 2010 with family and friends starting at 9 p.m. at the Russian hot spot Mari Vanna, 41 East 20th Street near Park Avenue South.
"I am happy to be the emcee [master of ceremonies] at Mari Vanna for New Year's Eve in Manhattan. It's my favorite restaurant in the city," Weir said. "I hope that everyone will join me for the countdown to 2010. I want to see you."
While at Mari Vanna, Weir's reality show "Be Good Johnny Weir" will be filming him. The show debuts on the Sundance Channel Jan. 18.

Tickets to the celebration, which is from 9 p.m. Dec. 31 to 1 a.m. on Jan. 1, are $400, including a five-course Russian meal and an open bar. Mention "Figure Skaters Online" to receive a $75 discount.
For more information, please contact Richie Williams of Fireworks Sports Marketing by phone at 646-274-0955 or by e-mail at rwilliams@fireworkssm.com. To contact Mari Vanna, call 646-306-0575 or visit their Web site at www.marivanna.ru/ny/.
__________
Figure Skaters Online strives to be an accurate source of information related to the sport of figure skating. To report an error, please e-mail the news editor. Include the article date and title in your e-mail.