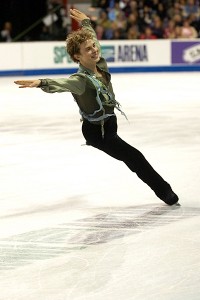 Fresh-off his fifth place finish at the 2010 U.S. Championships in Spokane, Wash., Adam Rippon is in seventh place following a shaky short program at the Four Continents Championship in Jeonju, Korea. He has 69.56 points heading into Saturday's free skate.
"I'm disappointed because that wasn't the program that I had been training," said Rippon, who finished fourth in the short program in Spokane. "I performed it much better a couple weeks ago at nationals so I know I could have skated it better here."
Rippon started strong with a solid triple flip-triple toe combination that earned him a positive grade of execution. But he stumbled on his triple Axel then stumbled on the triple Lutz, which he also had downgraded for under rotation. His step sequence and two spins received Level 3 and two spins were Level 4.
Kevin Reynolds of Canada captured the short program with a score of 81.60, improving his personal best by 14 points. China's Nan Song (72.95) came in second ahead of American Brandon Mroz (70.88).
Reynolds hit a quadruple Salchow-triple toe combination, the only quad of the day, a triple Axel and a triple Lutz in his jazzy program. "Everything came together, the quad-triple, the triple Axel, I was finally able to skate a clean short program. It's the result of a lot of training," Reynolds said.
Song turned in a strong program to "The Way Old Friends Do" by Abba that featured a triple Lutz-triple toe, a big triple Axel and a triple flip for a new personal best. "For me this result is surprising, because this is my first senior level competition. I came here to learn, and my main goal for the season are actually Junior Worlds," he said.
Mroz, who skated last out of the 27 competitors, landed a triple flip-triple toe combination and a triple Lutz, but touched down with his hand on the triple Axel, which was still an improvement from Spokane. "Tonight's short program was definitely a step up from my nationals. I made a little improvement and I'm glad it's a step up," he said.
"I'm still kind of young and I'm working with the quad," he said about taking out the quad toe from his program. "This season, it has been up and down I'm planning it in the long, but for the short, I just wanted to go out and kind of push eve rything up, push my components. I wanted to make it not easy, but when the quad is out it's very easy to be relaxed in the program. I'm looking forward to do it in the long. "
__________
Figure Skaters Online strives to be an accurate source of information related to the sport of figure skating. To report an error, please e-mail the news editor. Include the article date and title in your e-mail.