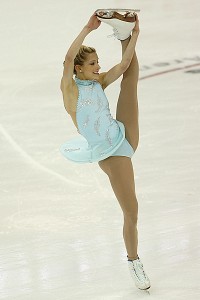 Becky Bereswill has taken up pair skating with Trevor Young in addition to her singles career, the 2008 Junior Grand Prix Final Champion announced on her official website. Bereswill and Young, who  formed their partnership in April, plan to make their debut at the annual Detroit Figure Skating Show then compete at the Indy Challenge.
"So far, I am loving every minute of pair skating. Everything is so new, exciting, and thrilling," she said. "Trevor and I have been working together since early April and train with Johnny Johns and a group of coaches at Arctic Edge Ice Arena in Canton, Mich. Skating in Canton is so inspiring and a learning experience I cherish everyday. All of the teams are so hard working, and training alongside the world's best ice dance teams has had a huge impact on our skating."
Canton has been the training home of 2007 U.S. Champions Brooke Castile and Ben Okolski. Also training in Canton are 2010 Olympic and World Champions in ice dance Tessa Virtue and Scott Moir of Canada, 2010 Olympic and World silver medalists Meryl Davis and Charlie White and 2010 U.S. Championship bronze medalists Emily Samuelson and Evan Bates.
Bereswill and Young's short program is currently being choreographed by Marina Zoueva, who previously worked with Bereswill on her singles programs. The music for the short and free skate have not been announced.
The pair plans to skate in an exhibition next month but compete at Indy Challenge, July 29-August 1, if Bereswill is able to pass the necessary U.S. Figure Skating tests this summer. She has not yet completed the pair tests to compete in U.S. qualifying competitions or internationally, although nationals and internationals are both goals for Bereswill and Young.
Young is a veteran pair skater who last competed with Andrea Best, taking 12th at the 2010 U.S. Championships at the senior level. Internationally, Best and Young placed fifth at 2009 Winter Universiade, second at 2007 Finlandia Trophy and sixth at 2006 Junior Grand Prix Czech Republic.
Bereswill, who will also continue in singles, finished 13th in the senior ladies competition at the 2010 U.S. Championships in Spokane, Wash., while skating with two stress fractures that developed in her back in 2008. Earlier in the off-season, I was able to take some time off to heal and I am on a strength and recovery program that helps me manage my back," she said.
She made her Grand Prix debut at 2009 NHK Trophy in Nagano, Japan, placing 11th in the field, and she placed 12th at the Finlandia Trophy. Other singles results include two silver medals on the 2008 Junior Grand Prix circuit before her win at the Final.
Bereswill plans to enroll at the University of Michigan this summer, where she will major in business. Last weekend, Young graduated Summa Cum Laude with a degree in Operations and Industrial Engineering.
__________
Figure Skaters Online strives to be an accurate source of information related to the sport of figure skating. To report an error, please e-mail the news editor. Include the article date and title in your e-mail.