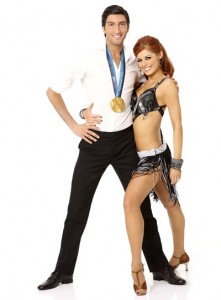 Ballroom dancer Katrina Burch sat down with Figure Skaters Online to explain the basics of the Viennese Waltz and the freestyle, which are the two dances that Olympic Champion Evan Lysacek and partner Anna Trebunskaya will be performing on tonight's episode of Dancing with the Stars. Team Evanna is contesting with two other couples in the finals.

To vote Lysacek for the Mirrorball Trophy, call 1-800-868-3406 or visit http://cdn.abc.go.com/shows/dancing-with-the-stars/vote. (Canadian and international viewers can only vote online until 11 a.m. Eastern.) AT&T customers can also text "Vote" to 3406. Voting opens as soon as the show starts.
For Evan and Anna, on Monday night they are dancing the Viennese Waltz, which is the first dance the team performed this season, scoring 23 points, and then the freestyle, which all of the three final couples will perform.
Maks and Erin are also dancing the Samba, performed during Week 6 with a score of 25, and finally Nicole and Derek are dancing the rumba, performed during Week 4 for a score of 25. Look for improvement in dancing ability, lines, posture, and finally scores.
Viennese Waltz
Evan and Anna performed it on Week 1
The best score for a Viennese Waltz this season was by Erin and Maks for 27 points.
Samba
Erin and Maks performed it on Week 6
The highest scoring Samba performed this season was by Nicole and Derek for 26 points.
Rumba

Nicole and Derek performed it on Week 4

The highest scoring Rumba was by Evan and Anna for 27 points.
In freestyle, as the name suggests, anything goes.
Here are some good versus bad freestyles:
Best
Shawn Johnson and Mark Ballas
Good
Apolo Anton Ohno and Julianne Hough
Kristi Yamaguchi and Mark Ballas
Bad
Lance Bass and Lacey Schwimmer
Stacy Keibler and Tony Dovolani
Worst
Marie Osmond and Jonathan Roberts
The freestyle is the hardest to judge because so many different things go into it. Look for fun routines and routines that really show off the dancers' personality. Lifts are usually included.
On Tuesday each the two who make it to the top two will dance two more dances, Evan and Anna will to the Argentine Tango and the Quickstep which I think are good mix. It'll show off Evan's strengths of lines but also give him a chance to show that he can just have fun with the dances.
__________
Photo courtesy of ABC
Figure Skaters Online strives to be an accurate source of information related to the sport of figure skating. To report an error, please e-mail the news editor. Include the article date and title in your e-mail.