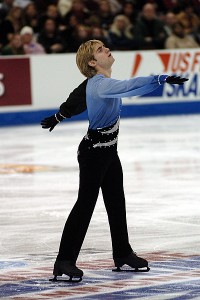 The 2011 International Skating Union (ISU) Grand Prix of Figure Skating Series opens Oct. 21-23 with skaters heading to Ontario, Calif., for Skate America. The men's short program and short dance are Oct. 21, the men's free skate, free dance, pairs short and ladies short are Oct. 22 and the pairs free, ladies free and Skating Spectacular are Oct. 23.
While 2010 Olympic Champion Evan Lysacek is not making his return to competition in Ontario as advertized, the men's competition offers a field of solid competitors including three rising Americans and international threats posed to shut out Team USA. The favorite is reigning World Championship silver medalist Takahiko Kozuka of Japan, who won two Grand Prix gold medals and bronze at the 2010 Grand Prix Final, but he could be challenged by Czech quad king Michal Brezina or French showman Florent Amodio.
Kozuka has the highest personal best among the competitors, scoring 258.41 en route to his second place showing at Worlds. His 180.79 point free skate included an opening quadruple toe and three jump combinations, a triple lutz-double toe, triple Axel-double toe-double loop and triple Lutz-triple toe. While his technical content earns high marks, he also scores well in program components, often scoring 8.0 in several areas.
Brezina withdrew from his two 2010 Grand Prix events, Cup of China and Trophee Eric Bompard, after undergoing surgery for a varicose vein in his abdomen so Skate America marks his return to the circuit. Fourth at the two previous World Championships, he started his season by winning the Bavarian Open and placing second at Nebelhorn Trophy, both held in Oberstdorf, Germany. Brezina included a quad Salchow and a quad toe in his free skate at 2011 Worlds but only landed the toe last month at Nebelhorn.
Amodio is starting his season at Skate America. Known for his entertaining programs, his free skate at Worlds had higher scoring program components (77.06) than elements (74.98). He will need to improve his technical mark to be competitive with a clean Kozuka and Brezina. Last season, Amodio was seventh at the Worlds and first at the European Championships. He was second at Trophee Eric Bompard, third at NHK Trophy and sixth at the Grand Prix Final.
Other international contenders include Japan's Daisuke Murakami, who competed for the United States as a junior, and Kazakhstan's Denis Tan.
All three Americans are capable of medaling in Ontario, although it is improbable that more than one would make a podium appearance.
Richard Dornbush (Corona, Calif.) is the top U.S. hopeful in Ontario after his breakthrough performances last winter, which saw him win the silver medal at the 2011 U.S. Championships and place ninth at Worlds, the highest standing for an American man. A hometown favorite, Dornbush comes into Skate America never having competed on the Grand Prix. In 2010, he was fourth at Junior Grand Prix Austria, first in Germany and first at the Final. His personal best short program came at the Final when he scored 70.75 points. At Worlds, he set a 151.88 personal mark in the free and 222.42 overall. This season, he's looking to improve those scores with a quad toe in the free skate, something he landed for the first time at the Golden West Championships in September.
While Dornbush has the momentum of 2010-11 on his side, Armin Mahbanoozadeh (Alexandria, Va.) already knows what it is like to medal on the Grand Prix. He was third at 2010 Skate America, where he set his personal best in the short (67.61), free skate (143.56) and overall (211.17). Mahbanoozadeh, who is also trying to up the technical ante this season with a quad toe, finished sixth at 2011 nationals and seventh at Four Continents.
Douglas Razzano (Scottsdale, Ariz.) was added to the field just last week when Lysacek withdrew citing a contract dispute with U.S. Figure Skating, the sport's national governing body. He comes into Skate America fresh off a silver medal performance at Finlandia Trophy, where he was just .12 from the top score. In Finland, Razzano's first place free skate did not include a quad or a triple-triple combination, both of which he has performed before. Razzano is not only making his Grand Prix debut in Ontario but he is also making his first appearance in senior ISU event (his personal best 174.71 is from 2008 Junior Grand Prix Final, his most recent ISU event).
The men's field is not highly decorated with only one World medal, one Four Continents Championships medal, two World Junior Championships medals and four European Championships medals between them, but the field is full of potential. The 10 skaters in Ontario are a group poised to be major players in the lead up to the 2014 Olympic Winter Games in Sochi, Russia.
Kozuka is clearly the leading man at Skate America. Podium predictions: 1) Takahiko Kozuka, Japan. 2) Richard Dornbush, United States. 3) Michal Brezina, Czech Republic.
__________
Photo courtesy of Leah Adams
Figure Skaters Online strives to be an accurate source of information related to the sport of figure skating. To report an error, please e-mail the news editor. Include the article date and title in your e-mail.