By  Amber Gibson
Special to Figure Skaters Online
__________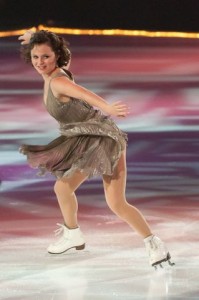 Fashion On Ice brought together the best of three worlds – figure skating, fashion and music, with Aretha Franklin's powerful vocals.
Fashion designers Betsey Johnson and Gilles Mendel were in the audience, watching the skaters perform in exquisite costumes the two designers made specifically for this Disson Skating show. Johnson's spunky rock 'n' roll designs dominated the first half of the show, and after intermission, Aretha Franklin stepped on stage and the skaters donned elegant outfits courtesy of J. Mendel.
From Joannie Rochette's "Frenchie Wenchie" French maid costume, complete with a feather duster, to Sarah Hughes' hoop skirt corset ensemble, the costumes in the first half were just what you'd expect from Johnson's kooky and colorful line. Highlights from this portion of the show include Sinead and John Kerr's rendition of Adele's "Rolling in the Deep" in sailor attire and Meryl Davis and Charlie White's playful program to a medley of Ingrid Michaelson's "The Way I Am" and Plain White T's "Rhythm of Love." Weir closed the first half of the show, bringing the house down with his famous "Bad Romance" program. Victoria's Secret model Karolina Kurkova even sang a few bars of the Lady Gaga song when she and co-hostess Tara Lipinski returned to the stage.
Sasha Cohen was beautiful as ever, dazzling the crowd with her signature spirals. Her first number, to "Dos Gardenias," brought back memories of her popular Malaguena and Carmen programs. Cohen is now attending Columbia University in New York City, taking economics and writing classes. She hasn't yet decided what she will major in but she said she's enjoying herself. "I'm excited for this new chapter in my life," she said after the show.
Jeremy Abbott seemed a little preoccupied and needed retakes for both of his programs to perfect his jumps for the Nov. 13 air date on NBC. Abbott deserves credit for having the most difficult jumps of the night though, including triple-axels in both of his programs.
After a zamboni break, the show transitioned to the understated and graceful designs of J. Mendel. Costumes were of one color, with elegant draping and faux fur. The Kerrs, Rochette and Cohen skated while Franklin sang a few songs from her new album. Alissa was enchanting in a midnight blue cocktail dress with a hand-beaded bolero, skating to "Moon River." Ryan Bradley looked dapper in a tuxedo-style costume with a gunmetal vest. Bradley skated to Frank Sinatra's "New York, New York," performing his signature backflip. Weir's soul-searching "Ave Maria" embodied the costume he wore, in stark contrast to his extravagant first act.
The show ended with a fun group number to Franklin's most famous song of all, "Respect". The skaters looked like they were having a great time, with Czisny pairing up with Bradley and Rochette with Abbott for a little couples' choreography. Fashion On Ice was a very successful showcase of fashion and figure-skating and having the Queen of Soul chime in with a few songs certainly did not hurt. The fashion acted as a cohesive thread through the performances, and both the costumes and skating were divine.
__________
Photo courtesy of Pete Tsai
Figure Skaters Online strives to be an accurate source of information related to the sport of figure skating. To report an error, please e-mail the news editor. Include the article date and title in your e-mail.