By Claire Cloutier, special to Figure Skaters Online
Header photo by Robin Ritoss
Claire Cloutier, of A Divine Sport blog and a special contributor for Figure Skaters Online, talked with 2017 U.S. silver medalists Marissa Castelli and Mervin Tran about their challenges in the past year and their plans for the 2017-18 season.
Last season was a roller-coaster for the American pair team of Marissa Castelli and Mervin Tran. Their preparations for the season hit a snag when Tran suffered a concussion last summer. Tran recovered by September, but they struggled with inconsistency at their fall events. Castelli and Tran rebounded to win the silver medal at 2017 U.S. Championships in Kansas City. They were hopeful for an assignment to Four Continents, the World Championships or World Team Trophy. However, U.S. Figure Skating (USFS) did not name Castelli and Tran to any of these competitions.
The team was left to process the decision and rethink their goals. But, despite the setbacks of last season, Castelli and Tran quickly decided that "we're not done yet." They've recommitted themselves and look toward the new season with a fresh perspective.
Reflecting on last year, Castelli said: "It was definitely, for us, an up-and-down season. We had great moments, and we had some bad moments. We put everything out there, at every competition. We went for everything last year. Now we're ready to use that experience and add those finishing touches."
The team said that Tran's concussion cost them over a month of training time last summer. "We didn't start running programs until September, really," Castelli said. "So we were just a little bit behind where we wanted to be on program run-throughs."
Castelli and Tran skated inconsistently at their Grand Prix events, placing 7th at Skate America and 5th at Trophee de France. However, they put out stronger programs at Nationals in Kansas City, especially in the free skate, and were happy with their silver medal. Then came the unexpected decision by USFS not to assign them to Four Continents, Worlds, or (later, following Worlds) World Team Trophy.
"We were very disappointed," Castelli said of the decision. "We were very disappointed in our federation for not choosing us to do any competitions after that."
I asked how the decision affected their motivation. "Were you discouraged? Did you ever question things, going forward?"
"Yes, definitely," said Castelli. "It's a very discouraging decision that they made, to be honest. Because, coming in second at Nationals, we thought we would get at least one selection. To be sent to nothing at all was very discouraging. It was very hard to get back into [training] right away. Because it's a question of "Will the federation believe in us?"
Tran agreed, admitting, "We're not entirely content with it."
However, he offered this perspective.
"At the end of the day, I truly believe that the federation is doing what they believe is best for Team USA," he said. "Their intentions were right, from what they thought. Whether or not people agree with it, the decision was theirs to be made. And our goal this year is to do our best to make the decision [through our skating]."
Castelli and Tran felt there was "a silver lining" to what happened after Nationals. "It did give us a lot of time to sit down, reflect, really just go back down to our roots, and figure out what we need for next year," said Tran.
Castelli agreed. "We decided that this year is about us. We're skating for us, not skating to please anyone. We're doing this because we want to skate. Sometimes you lose that focus during the season of why you're actually skating. I think for us, it came back to: We're not done yet. And that's why we're still going strong. We came back, and we've worked on a lot of things since Nationals."
The team watched the pairs event at Worlds in Helsinki.
"It was one of the best pairs short programs I've ever seen," commented Castelli. "Sui/Han [China's 2017 World champions, Wenjing Sui and Cong Han] were just amazing, of course—the way they make you feel about skating."
Added Tran: "Marissa and I kind of examined the competition and looked at some of the good things other people were doing and were [like], 'We should strive for some of that next year.'"
The U.S. only qualified one pair slot for the Olympics next year despite a top ten finish at Worlds in Helsinki [due to ISU Rule 400A, paragraph 3], though they will have two pairs for 2018 Worlds in Milan, Italy.
I asked Castelli and Tran their thoughts on the situation. "How can U.S. pairs move forward and be more successful the next few years? Do you see any factors that are making it difficult for more U.S. pairs to succeed?"
"I feel like U.S. pairs are sometimes focusing on different things than international criteria," offered Tran.
Castelli concurred: "The thing that is different between international competition and the U.S. pairs skaters, is [that] a lot of times, the U.S. pairs skaters, we go for big tricks. And we don't work on the rest of the package. So you have these big tricks, but then the skating, and the connection, and the programs, just aren't as developed as other countries' pairs. I've heard stories about the Chinese [Sui/Han] running through their program multiple times—just running through their program [without elements]. Granted, Sui was injured. But just the skating, and the feeling, and the passion … It's such an interesting aspect of skating."
Castelli noted that pairs skating has become more demanding and difficult.
"Spins used to be just camel spins; now they're these crazy combination spins, and then they expect us to continue emotion [while spinning]. It's honestly kind of insane, what they're asking us to do now," she said. "To go from double twists and triple twists, to quad twists. And, from that quad twist, you have to continue the emotion, and skate like an ice dancer. Different sports are blending into each other. They expect us to jump like the singles, and skate like the dancers, but then do all the crazy lifts that we have, and not set them up. There are many critiques now: 'Oh, you're telegraphing this element,' or, 'You're setting up into this element too long.' The sport is evolving so much that it's difficult to keep up. Like our men, now. If you don't have 3 or more quads …. it's insane."
Tran added that federations can put incentives in place to encourage good-quality basic skating or certain technical elements. He talked about the changing trends in pairs skating.
"If you look back through the years, there'll be a push—it depends on the generation—but there'll be a push for artistry, and after a while, it kind of re-balances and you get a push for technical. It bounces back and forth. And now it's just huge, big tricks. And I'm not saying that's a bad thing. But it's interesting how it bounces back and forth, depending on the generation of skaters we have," he said.
Although Canada's Meagan Duhamel and Eric Radford pushed the sport forward technically in the past few years, the current success of Sui and Han and Aliona Savchenko and Bruno Massot of Germany is bringing attention back to artistry again.
"But you still have to keep the hard elements," said Tran. "You can't just skate clean and not do your stuff. There's balance between it. That's the tricky part about this sport."
I asked Castelli and Tran about their goals for the coming season.
"We can't control the outcome of a competition, but we can control the outcome of our own skating," said Castelli. "That's our main goal for this season: To put everything together, as much as possible. We know we're not going to skate clean long programs every single time. But our goal is to make it like, 'Wow, that's an amazing program,' every single time. We want to get into the 120s-, 130s-range in our long programs now. We know we can. We hit 116 with almost 4 mistakes [at Trophee de France]. So we know that we can get up there, easily. And that's our goal, is to actually hit it."
The team has tentative plans to start their season at either the Quebec Summer Championships (August 10-13 in Pierrefonds, QC) or the Cranberry Open (August 9-12 in Hyannis, MA). They may also skate at Souvenir Georges-Ethier (September 28-October 1 in Beauport, QC), if they don't have another event scheduled at that time.
Last year, Castelli and Tran competed in one ISU Challenger Series (CS) event: Autumn Classic in Montreal, where they train. They hope to do more Challenger Series events this season.
"Honestly, we don't really have any preference this year," said Castelli. "Our fate is in the hands of USFS.So wherever they want to send us, we'll go. No complaints."
Castelli and Tran also received a Grand Prix assignment to Rostelecom Cup (October 20-22 in Moscow, Russia). Castelli says she's very excited to compete at the Russian Grand Prix for the first time.
We discussed the progress of the team's technical elements. Last season, Castelli and Tran received varying level calls on their triple twist. They outlined their approach to getting their triple twist levels more consistent.
"This off-season, we really spent some time to re-analyze our twist," said Castelli. "We changed the steps [into the twist] to get them more consistent. We're working on the rotation, the snap—how to make it consistently bigger and higher, every single time. That's what we've mainly been focusing on.Some days, we'll just do doubles, just to work on the snap and the technique. We don't want to just get the levels; we want to get the GOE. That's our main goal this year. We want a scorecard with all pluses on it."
"What do you think is the key to getting extra height on the triple twist?" I asked.
Tran said: "For us, it's our timing. As far as height goes—I don't think we have the hugest twist out there, but we get some pop in our twist."
He explained that trying to perfect the triple twist is a bit of an art.
"Sometimes, our smaller twists are actually cleaner than our bigger twists. Then you'll get these huge, popping twists, but it's just a little bit awkward because we're not quite together with the transfer and release, where it can rotate properly. So it's just getting the feeling consistent," he said.
The team is also working to improve their throw triple flip. Although they landed the element several times last season, it wasn't always clean.
"Last season, the best part about our throw triple flip was, no matter what angle I was at—literally, horizontal or vertical—I landed on my feet," Castelli says, laughing. "It was a fairly new element for us, and we were trying to put it into both programs. We just got in a pattern last season, where we were–"
"Just trying to get it landed," said Tran.
"Yeah. It was like, 'Okay, we've got to just rotate it,' but we didn't really focus on the technique anymore. It was just: Get it done. But we obviously want it to be better, and look more pleasing in the air. So we really went back, and re-analyzed our takeoff, and what we're doing. We spent a while doing just doubles. Just to get the feeling of the rotation. And now, for the past month, they've been landed one foot, straight rotation. They've been pretty consistent."
We also discussed side-by-side jumps, a weakness for Castelli and Tran last year. I asked if there were any changes in how they're training side-by-side jumps.
"We work now with Nick Young, a jump coach," said Castelli. Young works at their main training facility, making it easy to schedule lessons with him. "We've been doing off-ice jumping, and a lot of on-ice jumping."
"Training like singles skaters," put in Tran.
"Yes, we're training like singles skaters, when we're training our singles [elements]. And we're just going to continue with our plan. We can land the jumps, so it's not like we need to re-work the wheel here. We just need to be more diligent," said Castelli, and pay more attention to their technique.
Castelli and Tran will have a new long program this season, which Castelli recently announced on Twitter. The program is set to a Shawn Phillips song and titled "Woman."
Castelli and Tran said they were originally planning to use different music for the LP. "And then Julie [Marcotte, choreographer] said, 'This is a piece I've been saving; I want you guys to skate to it.' And we heard it, and said, 'Yes! We trust you. Yes, we'll do it.'"
They're excited about the new program.
"It's going to be completely different from our Journey program," said Castelli. "I loved our Journey program … but this feels so much more like us. It's more of a calmer-paced program, where we can really get into our knees and showcase what we do best–our skating skills. And our connection. We've been training it like crazy, just working out all the kinks, and it's been great."
The team said the choreographic process for the new long program went very smoothly. "It was honestly one of the easiest long programs I have ever choreographed with Julie," said Castelli. "We had about the first 4 elements [choreographed] within the first 2 hours. Because it just flowed. We didn't force things to happen; it just worked. I think that's why we're really excited about this music."
The team is still undecided about their short program for next year. They may re-use last year's 'Fallin'" by Alicia Keys, but it depends on how this season's required elements fit into the program. "Instead of side-by-side spins, we have a pairs [combination] spin [this season]," explained Castelli. "Then we have the forward inside death spiral, and the star lift [group 3 hip lift]." They also plan to move their lift earlier in the program. "It all depends on how our new layout of our short will go. So, we can't tell you yes or no. We're hoping it will be 'Fallin.'"
Castelli and Tran have been together for 3 years now. I asked if they feel like they're developing their own style as a team.
"Yes, definitely," answered Castelli. "What Mervin used to skate with his previous partners–looks nothing like we do now. What I skated with Simon–looks nothing like we look now. I think that's the best part of our partnership: We've created a completely new team for ourselves. We really like our style of skating—we think it's unique to us."
Tran feels that he and his partner are becoming more comfortable on the ice; more in tune with each other. "Sometimes, when you're training in a session, and another team will pop out of nowhere … You have to make a last-minute decision of where to go. And oftentimes with a pairs team, one person decides to go over there, whereas the other person thinks, 'I need to go over here.' But we've been having less of that. We're just more on the same page when it comes to last-minute decisions. That's one thing I've noticed lately. It's a good sign that we've really gelled together. And we've been having fewer falls."
"Although, what was it you fell on yesterday?" teased Castelli.
"Well …." Tran said sheepishly.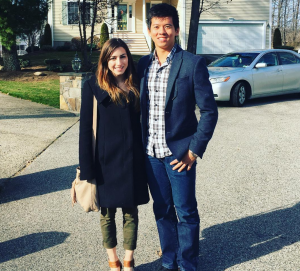 "He fell on a mohawk [turn] the other day," said Castelli. The partners laughed.
There are quite a few laughs while talking with this team. Castelli is friendly, down-to-earth, and open. The intensity she brings to the ice is reflected in the direct way she speaks. Tran, meanwhile, is quick to find the humor in any situation, making sly and often self-deprecating jokes. But he has a more serious side as well. When not training, Tran spends much of his time coaching. I asked how his coaching was going, and what level he teaches.
"Last year was a bit of a hectic schedule," said Tran. "There were times when I would travel from 3 to 4 different rinks in a day. I was always chasing things and just being drained and tired. This off-season, I figured out a better schedule; I don't travel to as many rinks now. I have more energy this year, and I plan on keeping it that way. I go from little baby kids to senior pairs; it's a big variety of kids that I coach. And you can't teach an 18-year-old the same way you teach an 8-year-old. I enjoy it, it's a lot of fun. I like to help. When I see that I can help inspire, help someone progress with something, or do the sport that they love, it's great. Because I've always been gifted with wonderful coaches for my entire career. I've never had a situation where I felt that my coach held me back. They've all helped me grow as a person, and that's what I want to try and give back."
For most pairs, the upcoming season will be all about the Olympics; everyone's focus will be on the Games. However, Castelli and Tran are not eligible to skate in Pyeongchang, Korea, due to citizenship. I asked how they felt this would affect them.
"Honestly? We've been gripping with this for the past three years now, so this is just another season," said Castelli. "And while everyone is stressing out … I hate to say it, but there's like this cloud over everyone's head. It's a live-all, die-all cloud, of going to the Olympics. Since it's kind of off the table [for us], we don't have that. We have sunshine."
"We're going to sit back and eat some popcorn, and do our regular thing," jokes Tran.
"We don't need anything to define us," said Castelli. "We're going to do what we want to do, we're going to skate the way we want to skate, and hopefully you enjoy it, and we enjoy doing it."
Tran said: "We like to joke about it. We say, 'We're not going to be able to be sent to the Olympics, but they're going to want to send us.'"
Tran continues to pursue U.S. citizenship, in hopes of being eligible for the 2022 Olympics in Beijing, China.
"I'm on the last step of getting my green card," he said. He and his lawyer are awaiting an appointment with U.S. immigration officials, which they hope will be scheduled soon.
Although the team is focused on their training and next season, they still plan to have some fun and enjoy the summer. Tran said: "We've been going to a lot of parks lately, having little picnics here and there. I think it's going to be a summer of picnicking."
They have plans to attend a Red Hot Chili Peppers concert in June. Castelli also enjoys yoga, biking, and spending time in Montreal.
"It's fun to go downtown and go to old Montreal—it's just like you're in Europe," she says. "Montreal has a food-truck Friday and fireworks every Saturday night in the summer—just so much going on."
One of Tran's favorite hobbies is playing his ukulele or guitar.
"I've been carrying a ukulele around with me for the past two weeks straight," he laughs. "I don't think there's been one day I haven't had it with me. I get random breaks during the day–like I'll have an hour break, but not enough time to go home and do anything. So I'll play. It's just a nice little pastime, for me to reset. It's really therapeutic."
Last year was not the easiest for Castelli and Tran. But the team enters the 2017-18 season with a renewed sense of purpose and a determination to enjoy their time on the ice.
"Hopefully, our enjoyment will bring you enjoyment," said Castelli. "That's our main thing."