By Gina Capellazzi
Header photo by Robin Ritoss
Figure skating fans — and even those with no interest in the sport — first learned of Starr Andrews in 2010 when the nine-year-old skated to Willow Smith's "Whip My Hair." The video of her skate was posted on YouTube and has since netted more than 48 million views. Since then, the recently turned 16-year-old has climbed the ranks, making a gold medal-winning junior international debut in Croatia last fall, followed by the junior national silver medal at the 2017 U.S. Championships in Kansas City in January. In March, she made her ISU Championships debut at Junior Worlds, finishing in 12th place.
Andrews now has her sights set on next season with dreams of going to the Olympics. Figure Skaters Online recently caught up with Andrews, where she reflected on this past season and talked about her goals for this upcoming season.
Figure Skaters Online (FSO): People discovered you in your "Whip My Hair" viral video. Besides being older, how have you changed as a skater since that performance?
Starr Andrews (SA): I have grown technically and emotionally stronger since that video was released. I am more passionate about the skills I do.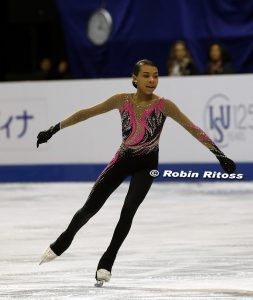 FSO: Describe your past season in one word. What was the highlight of your season and what were you most proud of?
SA: Growth! In the beginning of last year, I was not part of Team USA, so to be chosen to go to Junior Worlds was amazing. I wouldn't choose to do anything over again because I have learned from my victories and my mistakes.
FSO: What was it like to win the junior silver medal in Kansas City? How did you think you skated at the event?
SA: I was very happy that I placed in the National Championships. Of course, it wasn't my best performance. I know my potential and it just didn't happen at that moment.
FSO: After the U.S. Championships, you thought your season was over. However, you were given the chance to compete at Junior Worlds as the first alternate. What was it like to receive the call and hear that you were going to Junior Worlds?
SA: I was ecstatic! I couldn't believe it and couldn't stop smiling. I thought I was dreaming , and I kept asking my mom 'Am I dreaming?' Pinch me.'
FSO: What was it like competing in your first Junior Worlds? How did you think you skated and what did you take away and learn from the competition?
SA: It was very exciting and new for me (competing at Junior Worlds). I skated well for my very big international competition. I learned how to better control my excitement before competing.
FSO: What was it like in Taiwan? Did you get a chance to see the sights and if so, what did you see and like about Taipei City?
SA: It was very humid and warm. There were more people and more motorbikes than cars. There were interesting night markets and food everywhere. I got to go in Tower 101, which is the highest tower in Taiwan. I felt so high in the air when looking all the way down.
FSO: You already announced your programs for this upcoming season. ("Fever" by Beyonce and "One Moment in Time" by Whitney Houston). How did you choose these pieces of music and what are your programs like? Who choreographed them?
SA: My coaches picked out both of my programs this year. I really love the pieces of music that they chose. My short program, "Fever" by Beyonce is sassy and often plays with the crowd. My long program, "One Moment in Time" by Whitney Houston has emotion building throughout. Both songs allow me to have fun on the ice. The amazing Derrick Delmore choreographed both of these programs.
FSO: You recently posted on social media that you are officially a senior lady. Are you planning to compete senior nationally and junior internationally?
SA: Yes! I will compete senior nationally, and junior internationally with hopes of competing senior international as well at the discretion of the U.S. Figure Skating International Committee.
FSO: What are some of your goals this off-season on the technical side, as well as program components? What are your goals for the upcoming season?
SA: I am hoping to land my triple Axel and to start working on my quad Salchow. My (dream) goal for the upcoming season is to take my place on the Olympic team. I would also like to my emotion to be even more dramatic in my programs.
FSO: What is it like to work with your coaches Derrick Delmore and Peter Kongkasem? How are they as coaches?
SA: Derrick Delmore has a natural sense of humor and can be serious all at the same time. Peter is more strict and takes my skating very seriously. He knows my potential and wants to see me go far. They are both really fun and great to work with.
FSO: What is a typical day like for you?
SA: I usually wake up at 7 a.m. and get ready for the day. I start skating around 9 a.m. for 2-3 hours a day with a break in between. On off days, I swim and workout at the gym. At the end of the day, I hang with my family and get ready for the next day. Whenever I compete, I normally take a day or two off.
FSO: Happy Sweet 16! Are you planning on getting your permit and taking driving lessons to get your license?
SA: YES! I am so excited to finally get on the road and I am planning to get my permit and eventually, my license.
FSO: There are some videos of you on YouTube singing. What are your favorite types of music to listen and sing to? Favorite artists? If you weren't a skater, would you pursue music and singing?
SA: I like to sing to pop music and modern R&B. If I wasn't skating, I would probably pursue the idea of becoming a singer.

FSO: Are you attending public school or are you doing online school or homeschooling? What are your favorite courses?
SA: I am currently enrolled in homeschooling. It gives me the opportunity to balance school and figure skating. I love my digital arts and biology classes.
FSO: Any plans for the summer? Any vacations?
SA: I am training hard for most of the summer. I do not plan on going on any vacations, but I am taking an online college class for animal behavior. I love animals and I plan on becoming a veterinarian.
You can learn more about Starr by visiting her new official website.